Customer Success Managers (CSM) and Account Managers (AM). They're both two job titles that float around every business and both seem related, right? But it's not just a case of rebranding; Customer Success Managers (CSMs) are not Account Managers re-packaged for tech industries that offer Software as a Service (SaaS).
Upon a closer look at their respective skill sets, goals, approaches and interactions with customers, Customer Success Managers and Account Managers couldn't be more distinguished. They both operate on entirely different scales and have different objectives when it comes to the customer.
We aim to demystify any confusion surrounding these two distinct professions by examining the similarities and differences between these two complex roles.
This article will explore:
In case you're in a rush, here's the topline info, the main differences between a CSM and an AM.
Main differences at a glance
| Customer Success Manager 🚀 | Account Manager 🎯 |
| --- | --- |
| Focuses on the entire customer base | Focuses on select high-value accounts |
| Driven by customer lifetime value | Driven by account revenue |
| Proactively delivers value | Reactively responds to client requests |
| Scales across many customers | High-touch, personalized service |
| Seeks customer retention | Seeks contract renewals and upsells |
What does a Customer Success Manager do?
A Customer Success Manager is a person who looks after the employer-customer relationship after the sales process. Their role is to ensure loyalty and a lengthy relationship, with the overarching aim for the customer to receive the most out of the product and/or service.
Roles and responsibilities
In an organization, the Customer Success Manager is responsible for developing and nurturing the customer's value, using metrics like net promoter score (NPS), to monitor the state of their customer base and to lengthen the customer lifetime value (CLV).
The CSM's overall ambition is to demonstrate value to the customer and vastly elevate their experience with the product, ultimately driving long-term sustained revenue by retaining the customer and avoiding unnecessary churn.
What is an Account Manager?
An Account Manager is a role within an organization dedicated to managing strong relationships with clients.
After a customer's onboarding with sales, the Account Manager will take over customer liaison until the end of the client's professional partnership with the organization.
Roles and responsibilities
An Account Manager generates revenue and builds a lasting, fruitful relationship with company clients. Normally, an Account Manager will only have a few accounts, perhaps just two or three, and works with a small pool of customers.
In a nutshell, an Account Manager is the personified link between the employer and the customer. But don't let an episode of the TV show, Mad Men, fool you – it's not all long lunches filled with boozing and schmoozing in smoke-filled Manhattan hotel bars! There's a genuine, cultivated strategy for liaising and listening to a client's needs.
Just like customer success, you need to have phenomenal people skills to be an Account Manager. In fact, it's the beating heart of account management. It's a profession that demands an ability to problem solve and to work with a variety of different people, so being able to clearly communicate is critical to success in this role; you need to be able to relay information elegantly between both employer and client.
The similarities between Customer Success Managers and Account Managers
While Customer Success Managers and Account Managers have distinct differences in their day-to-day responsibilities (more on that shortly), there are noteworthy parallels in the core talents and objectives they share.
At their foundation, both roles center around developing positive, productive relationships with customers. They leverage a robust set of "people skills" –exceptional communication, service-focused mindsets and analytical abilities – to drive retention and revenue growth.
Though their approaches differ, CSMs and AMs are united by their passion for customers and desire to be trusted partners that enable mutual success. The following bullet points expand on the key similarities that unite these two, customer-centric functions.
Building strong relationships with customers: Both CSMs and AMs focus on establishing trust and rapport with customers. They prioritize open communication and being reliable partners.
Requiring excellent communication and interpersonal skills: Successful CSMs and AMs have polished communication abilities to connect with all customer personalities. They demonstrate empathy, patience, and adaptability.
Aiming to provide a positive customer experience: CSMs and AMs strive to deliver consistent positive interactions that meet or exceed expectations. Their goal is a frictionless, valuable customer journey.
Often acting as the main point of contact: CSMs and AMs frequently serve as the primary contact for customers to ensure seamless support. They manage the client relationship day-to-day.
Tracking and analyzing customer metrics and data: Leveraging data insights is crucial for both CSMs and AMs to gauge customer health. They synthesize usage trends to guide strategy.
Involving some elements of upselling or expanding accounts: While not the sole focus, CSMs and AMs strategically uncover expansion potential. They match customer needs with new offerings.
Focusing on retaining and growing revenue: Boosting retention and revenue growth is a shared priority for CSMs and AMs through account optimization and loyalty.
Collaborating cross-functionally within their company: CSMs and AMs engage with peers in sales, marketing, product, etc. to connect the dots across the customer journey.
Contributing insights to improve products/services: Feedback from CSMs and AMs influences enhancements to better meet customer needs and goals.
Aligning customers' goals with company objectives: CSMs and AMs aim to create synergy between what customers want to achieve and company growth priorities.
The key differences between Customer Success Managers and Account Managers?
It boils down to both teams' different overarching goals.
Customer success is concerned with cultivating customer loyalty via demonstrating value. While making money is part of every department's long game, customer success teams go about it in a more subtle and less mercenary way.
Account management is not only preoccupied with consolidating revenue and keeping the client happy but often is in charge of upselling, cross-selling and renewals.
Every organization operates under varying business models with different demands to answer and objectives to reach.
Acknowledging this fact plays a massive part in the function of customer relationship management between Customer Success Managers and Account Managers.
Let's go into this in slightly more detail. 👇
1. Scale of customers
The way a multinational enterprise corporation operates will not be the same as a small, independent business. Factoring size into the equation is imperative, as the size of the client base varies dramatically between a Customer Success Manager and an Account Manager.
An Account Manager will focus their attention on very few clients – maybe two or three, depending on the value of each account.
For example, larger companies might have one single client who brings in $1m in revenue, or more. The prestige of this account (client) demands a close relationship with a specific contact person to ensure their needs are met. For complex, high-value clients like this, account management takes a high-touch engagement approach with them.
CSMs, on the other hand, can deal with hundreds, if not thousands, of customers at any given time.
The size of your employee-to-customer ratio will drastically affect the level of personalization afforded. Customer success teams use tools like Intercom to imitate a close, personal relationship with the customer, but it's quite literally en-masse. In no way does that observation aim to discredit the ethos behind customer success. Far from it.
CSMs operate on a significantly larger scale than account management does.
2. Customization
A lot of why these two fields operate so differently is how they operate under vastly different business models. As customer success originated within the SaaS industry, their customers can be loosely described as "buy-off-the-shelf."
Take the subscription model as an example: customers might pay to watch their favorite cable TV channels, or to read articles in the New York Times behind its online paywall.
They all pay a fixed small sum per month or annum, and while there may be different plans or subscriptions to choose from, there is actually little room for radical customization or changes to the product.
The underwritten golden rule for customer success is to allow every customer to reach their goals with your product and/or service – we certainly aren't negating that.
Large or small, SaaS organizations will operate under very similar models – and this model doesn't necessarily bend over backward to accommodate each individual customer. Frankly, it's impossible to do so for everyone.
At surface level, one difference between an Account Manager and a Customer Success Manager is their ability to say "no" to customers. (Don't worry, we promise you it's not just an excuse to be rude, far from it!) Saying "no" to a customer can be a positive move and one that will help CSMs and the company in the long run.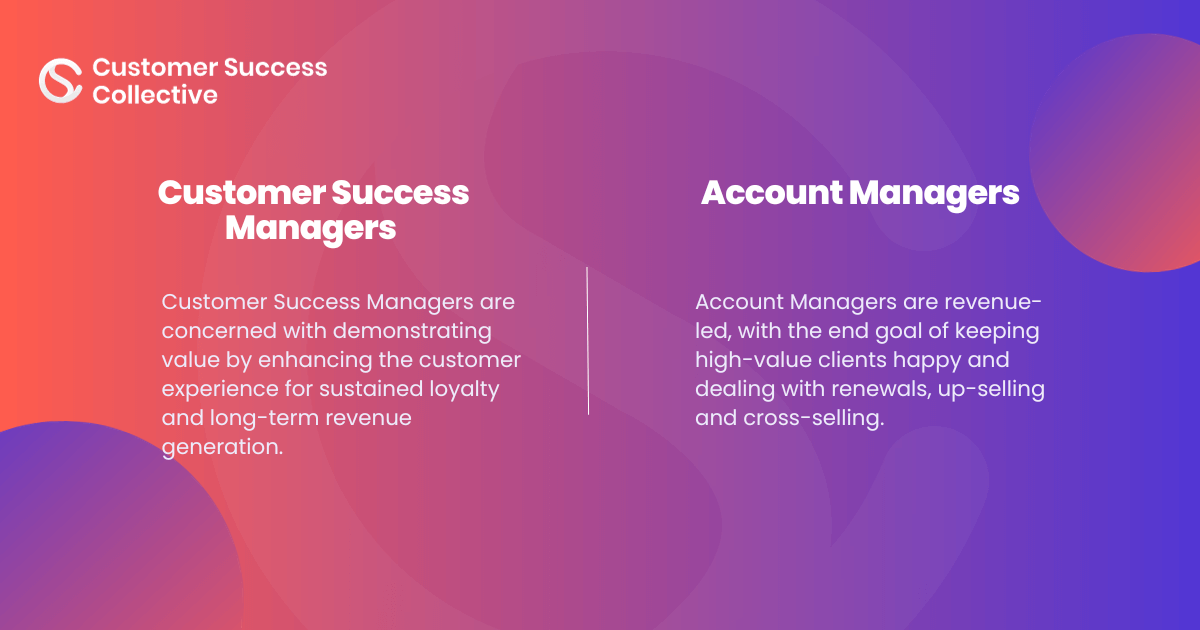 The weight of customers' investment in account management can cause a great deal of compromising and changing goalposts between different departments. If you're on commission or billing a client by the hour, of course, they will want to ensure their ambition comes to fruition.
But what we're really talking about is learning the skill to handle a customer's expectations.
3. Managing (great) expectations
Dickens wrote about them; CSMs live them.
If you really think about it, all it boils down to is common sense: when making promises to everyone, you're not going to be able to fulfill these commitments to all of them. (You'd have to be super-human to pull that level of customer attention off.)
With this customer model, you're inevitably going to have to let some people down. And the result? You could negatively impact your customer relationships and you don't wanna get on their nerves!
Without a doubt, Customer Success Managers are constantly working towards an overarching objective: for customers to meet their goals. Consequently, CSMs can find themselves overstretching their prescribed job role.
It's important to draw lines and politely redirect querying customers to the relevant department, such as sales.
Way back when during our Customer Success Festival in June 2021, Corinne Goldberg, former Head of Customer Success at Slack, explained that one of the defining characteristics of a CSM is their commitment to ensuring realistic expectations between customer and business.
The last thing CSMs want to do is disappoint their customers. After all, when customers are disengaged and neglected, you'll become susceptible to increased churn rates, and while it is possible, re-engaging a churned customer isn't easy.
Of course, everyone wants to be able to have their customers leave fully satisfied. But realistically, in a SaaS business model that isn't feasible. In turn, by letting people down you compromise the quality of your service. If customers feel neglected this can spark a high churn rate — something you definitely want to avoid like the plague. Essentially, providing genuinely helpful feedback works both ways.
Due to account management's focus on revenue, there are certain stereotypes of Account Managers being "yes" people. The line goes, if you're paid by the hour by a high-value client, there can be an obligation to agree to every request made. This can often not only be disappointing for the client but incredibly time-consuming.
The different approaches of Customer Success Managers vs. Account Managers
A key difference between Account Managers and CSMs can be measured by their skill sets, and the way both industries feed into each other is highly contested.
Account management is very much a subset of a strategic CSM's skills. Both fields function in similar ways, but this overlap in skill set comprising both roles isn't equally shared. In fact, the reverse situation isn't applicable; Customer Success Management isn't a mirror of Account Management.
A Customer Success Manager is consistently trying to add value to their product and to the customer's experience; a CSM might ask the customer how they can make improvements. Depending on the type of product or service, a Customer Success Manager may be able to monitor the customer's user engagement and reach out to understand why something might not be working out.
On the other hand, an Account Manager is driven by an expansive regime, focused on renewals and sales. This lens of revenue is a major difference between a CSM and an Account Manager's prerogatives.
We interviewed Jyo Shukla, Senior Customer Success Manager at BitSight, who gave her insight into the DNA behind a CSM:
"CSMs have a proactive, trust-based, outcome-focused approach that fosters customer advocacy and leads to more meaningful expansions for the customer in the long run."
Jyo's insight lends itself to a much bigger point: Customer Success Managers have a nurturing mentality. For Jyo, CSMs are able to derive the best outcomes for a customer and help them have a more holistic experience.
In contrast, account management aims to secure revenue commitment from clients.
💡
The main differences are in their scope, approaches, and primary objectives related to customer lifetime value vs. account revenue. But the client-facing relationship-building and analytical skills needed are common across both roles.
The day-to-day responsibilities of a Customer Success Manager vs. an Account Manager
The day-to-day responsibilities of an AM and CSM depend on the type of AM role you're working in. The day-to-day responsibilities of an Account Manager (AM) and Customer Success Manager (CSM) depend on the type of AM role and organization.
Jess Crow, a Customer Success Manager at Titus Learning, leads a team of recently transitioned CSMs from AMs, offering an interesting perspective.
For Jess, a CSM's daily responsibilities tend to involve:
Strategic review meetings (discussing success plans)
Supporting blockers/challenges with service desk tickets
Helping clients meet their outcomes/ROI
Providing product recommendations and advising on the roadmap
On the other hand, an AM's responsibilities at Titus Learning include:
Securing renewals with the CSM providing insight (proposals, negotiations, etc. – classed as transactions)
Leading sales opportunities (upselling/growth) passed as customer-qualified leads (CQLs) by the CSM to provide value and solve problems
Leading gathering of requirements/scope, generating proposals and commercials
A key overlap stems from the need to understand client requirements and commercial aspects.
For Jess, this happens because insight and relationships sit with the CSM team. CSMs end up doing much of the work to secure upsells with existing clients, given their trusted advisor status, not sales focus.
However, account management forms vary. Client Success Account Managers (CSAMs) overlap more with CSMs than traditional sales-focused Account Managers, who focus purely on driving renewals and upsells.
Natasha Beresford, Client Success Account Manager at Product Marketing Alliance, is heavily focused on helping her clients find value in The Alliance's products and nurturing client relationships.
Both CSAMs & CSMs are focused on proactively helping the clients see value throughout their time with the organization; however, the main difference is how the roles achieve this.
"For CSAMs, they work to develop and nurture strong relationships with their accounts. They'll usually act as the primary point of contact, after handover from sales, for most queries when possible. They liaise with relevant departments and then collate all the information and relay it back to the team keeping the clients.

"CSAMs will often have frequent check-ins with their accounts. The frequency is usually dependent on the size of the team and what was discussed during the engagement call.

"These check-ins are designed to share updates and reports with the account's lead booker to give them an overview of how their team is getting on and ensure we're keeping track of whether their goals or needs have changed. It also gives more opportunities to identify cross-sell and up-sell opportunities for the sales team to investigate.

"CSMs tend to support the customers during the initial onboarding phase, ensuring they have everything they need to get the maximum out of the product, and will often communicate messages to wider groups based on customer personas. CSMs will then support the customers as queries emerge, as the volume of customers is too high to utilize a higher-touchpoint approach.

"CSMs proactively support customers by ensuring that the onboarding, or messaging being sent to the client is relevant and clear, and will take into account any previous feedback they've received."
Both CSAMs and CSMs are the organization's advocates for their customers or clients internally and advocate for the organization externally.
There are a lot of similarities between the two roles in this area, asking for testimonials or feedback from highly engaged customers or accounts to help support the organization. In turn, sharing feedback that has come directly from the people experiencing the goods or service helps the organization ensure that they're working towards improvements requested by users.
In Natsasha's opinion, CSMs have a broader range of responsibilities than a Client Success Account Manager:
"As a CSM day-to-day could be anything from onboarding customers through a live session, creating email series designed to reduce churn, promoting reviews and testimonials, making engagement series for the platform, reaching out to high-risk customers, or a number of other activities.

"A CSAM has a slightly narrower scope of tasks, they're usually more in-depth. Reporting is a great example of this. Each report is made up specifically for each time, and then during the check-in, a summary may be provided to give the account lead booker an overview.

"The recommendations made by the CSAM are often tailored to the client specifically which means ensuring you're familiar with that particular account."
The work of a CSAM is largely client reporting, engagement monitoring, liaising on issues, success and changing goals, set up, and calls. These are all extremely time-intensive items tailored to each account. While CSAMs lean on ready-made templates to streamline where possible, there's always going to be an element of manual work involved.
The flexibility between Customer Success Manager roles and Account Managers
How much flexibility versus rigidity exists across the two roles? How much autonomy and discretion do CSMs have compared to AMs when dealing with customers? These are two crucial questions when weighing up the two roles.
We put this question to Natasha Beresford, Client Success Account Manager at The Alliance:
"I would say that this can vary from organization to organization. Both roles require a degree of flexibility. For example, Account Managers may have accounts across different time zones, so flexibility of time can become quite important.

"The Client Success Account Manager (CSAM) may take a call outside of their usual working hours to accommodate the client because calls are a great way to establish and support relationships.

"The needs and goals of the teams may change, and there may have been a misunderstanding between the client and sales so it's important that CSAMs have the flexibility to navigate these situations and make decisions to amend deliverables and challenge expectations where necessary.

"Overall, I think CSMs have less autonomy than CSAMs.

"Generally, the things CSMs work on, such as emails and email series, banners, and group posts for example will go to a wider audience so there are more processes in place to ensure that things line up with the organization's standards and launch timelines. There are also more rigid review processes to maintain consistency and attract as much attention from customers as possible.

"With CSAMs, while there are certain guidelines, like the company tone of voice, or check-in processes, the specific management of accounts is up to the individual CSAM and the client. There may be an agreed value that the CSAM is able to deal with.

"For example, at their discretion, they may offer a refund or product exchange up to a certain value before there is the requirement to involve the sales team or management.

"There are also a number of occasions where a CSAM will decide to offer a higher level of service dependent on the potential growth of an account or the willingness of the account's lead booker to provide something of value back to the organization such as a testimonial or client interview."
Customer success and account management KPIs
When thinking about success metrics for CSMs and AMs, it's important to consider how these two roles are evaluated differently by leadership.
Here's a comparison of the different types of KPIs found in customer success and account management:
| Customer Success Manager 🚀 | Account Manager 🎯 |
| --- | --- |
| CSAT scoring | CSAT scoring |
| NPS | Number of client calls taken |
| Testimonials and feedback | Testimonials and feedback |
| Customer qualified leads | Retention and expansion of accounts |
How Account Managers can make a career transfer into a customer success role
Transitioning into a different professional field is a keen way to utilize the power of transferrable skills. In fact, since customer success is a relatively non-traditional role, many people find themselves segueing into this booming function.
We asked members of the Customer Success Collective Slack community for advice for any Account Manager or Account Executive looking to move into customer success.
Josh Horsman, Head of Customer Success (UK) at Askable, said:
"I'd say as an AM you'll already be well-equipped for the role, but there are some important distinctions to consider between the roles.

"Learn to think in terms of how you can deliver maximum value for the customer. Seek to gain a deep understanding of their goals and how your product can help them to achieve those ends.

"Then, make it your mission to help the customer realize that value and hit their goals through building a great relationship, awesome onboarding, first-class customer support, being proactive about seeking their feedback, and finding new ways to help them reach those goals as both your product and their goals evolve."

The future of the Customer Success Manager and the Account Manager roles
As the customer success industry matures, there is a growing emphasis on making customer success programs more strategic and outcome-driven.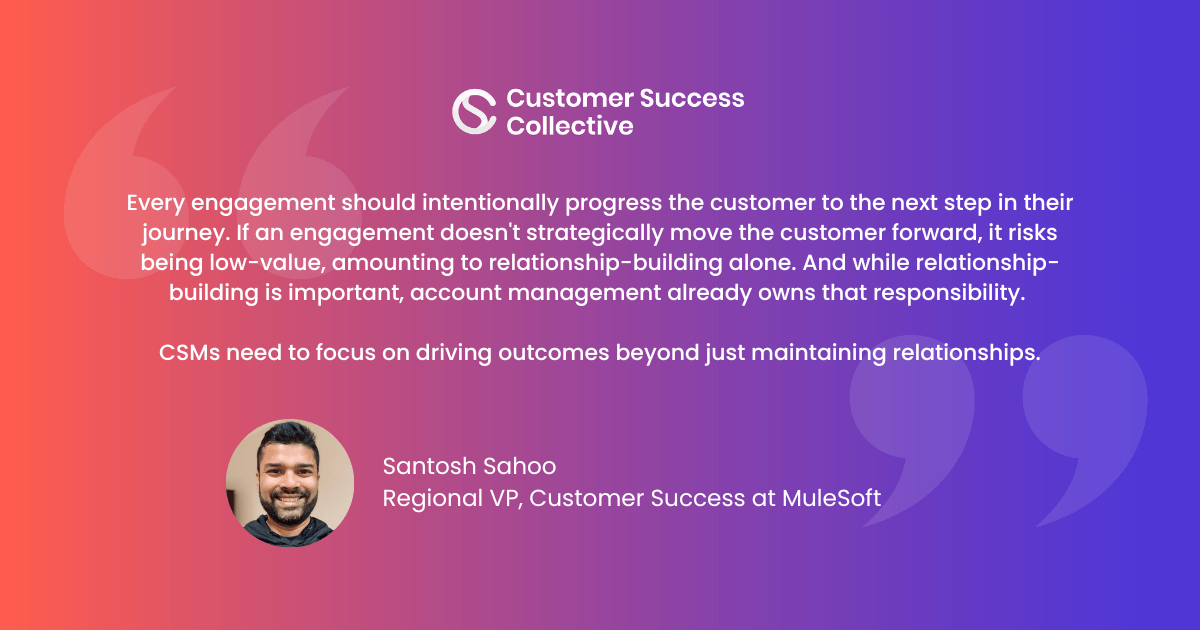 Evolving CSMs beyond relationship-building
With the impact of an unpredictable economy, budgets often tighten. Customer success teams are likely to be tasked with directly generating revenue through account expansion. This signals an evolution beyond the traditional relationship-building focus of customer success.
According to Santosh Sahoo, Regional VP of Customer Success at MuleSoft, to drive this evolution, customer engagements need to become more purposeful.
"Every engagement should intentionally progress the customer to the next step in their journey. If an engagement doesn't strategically move the customer forward, it runs the risk of being non-valuable, amounting to mere relationship-building, which, while significant, is already being covered by an account team.

"It's not solely the purview of the CSM to maintain relationships. Instead, CSMs need to focus on driving outcomes."
This intentional, outcome-based approach is the future of customer success. CSMs have a prime opportunity to expand their impact beyond just maintaining customer relationships. With the right vision and strategy, they can transform into drivers of adoption, expansion, and retention.
Traditionally, account management is commercially driven rather than outcomes driven. Many AMs prioritize sales due to targets, which can, unfortunately, lead to mis-selling if they do not fully understand client requirements and pain points. These insights usually sit with the Customer Success Manager.
The future is digital
The future of account management is headed towards a digital transformation, but that doesn't mean losing the personal touch. As McKinsey research shows, key Account Managers will need to adopt a hybrid model that blends high-tech capabilities with high-touch service.
On one hand, data and digital tools will drive unprecedented efficiency and insights. According to the study, Account Managers can leverage automation, AI-enabled analytics, and account planning software to get an integrated view of customer needs and strategy. This allows them to scale personalization in a way not possible before.
But even as Account Managers embrace these digital capabilities, the human element remains critical. Key accounts still value a trusted advisor who understands their business and goals at a deep level. Someone who can be their advocate across the organization. This is where Account Managers will continue providing white-glove service and strategic guidance.
The most successful Account Managers will integrate the two approaches seamlessly. They'll tap data to inform where high-touch services are most valuable and personalize digital touchpoints. Blending automation with human interactions will allow Account Managers to drive growth for their most strategic customers like never before.
The future is not digital or personal. It's digital and personal. Account management will thrive by leveraging both.
All in all...
CSMs are concerned with demonstrating value by enhancing the customer experience for sustained loyalty and long-term revenue generation.
Account Managers are revenue-led, with the end goal of keeping high-value clients happy and dealing with renewals, up-selling and cross-selling.
Where CSMs are preoccupied with dealing with bigger scale, Account Managers ultimately deal with bigger clients. Account management can be categorized as reactive in supporting its client-business relationship with a focus on contract renewals and upselling.
Customer success, on the other hand, is preoccupied with making sure the customer's goals are their own goals. While both can happily co-exist, a CSM wouldn't try and do an Account Manager's job and up-sell; it would ruin the foundation of their relationship with the customer: trust.
A CSM takes a more proactive approach with day-to-day mutual engagement plans, with the aim of adding value to the customer. Customer success teams can operate on a variety of high-touch or low-touch relationships, depending on the customer base. On the other hand, account management will ordinarily have a high-touch strategy due to their smaller clientele.
Both branches of customer relationship management (CRM) are very similar, but the glaring difference between them is intent and scale. While CSMs are more common in SaaS, and Account Managers are more traditional fixtures in business, the success of both of these roles is dependent on the style of your business and the individual demands of your customers.
---
Ready to become a customer success maestro?
If you want to master the essential competencies for customer success and accelerate your career, Customer Success Certified: Core is the most comprehensive training out there.
Get ready for a deep dive into every crucial aspect of the CS role.
You'll uncover cutting-edge strategies for customer onboarding, activation, advocacy, and beyond.
Learn how to:
✅ Tackle churn
✅ Optimize expansion
✅ Ace CS metrics.
This is your chance to equip yourself with the confidence, practical skills, and competitive edge you need to excel. The actionable tools and unparalleled expertise will take your strategies to the next level so you can deliver results.
What are you waiting for? Enroll in Customer Success Certified: Core today and start your journey to CS mastery!