Ever wondered what the crème de la crème in customer success looks like? Well, look no further. 👀
We've carefully poured over the nominations in each respective category, and can finally reward your patience and anticipation, with the grand unveiling of the winners of the Customer Success Awards 2021.
We've been inspired by the volume of responses to these Awards, and want to thank everyone who took the time to give kudos to the cream of the crop in customer success.
CS plays a crucial role in powering growth within, and we want to celebrate the people, teams, and tools at the helm of this innovation. 📈
So without further ado, here are the winners of our six elite categories…
---
CSC MVP of the Year
We're delighted to present the Customer Success MVP of the Year Award to Rebecca Nerad, VP of Customer Success at E2open.
Not only is she staunchly passionate about driving value for her customers, but Rebecca's also the embodiment of going the extra mile – a true team player within the CS community with exemplary communication skills.
Congratulations, Rebecca! 🎊
---
Customer Success Team of the Year
This award goes out to the best customer success team in the business, the team that puts success in CS.
We're thrilled to announce that the team at Braze has won the CS Team of the Year Award. 🎉
Braze is a cloud software customer engagement platform that businesses utilize to deliver marketing messages. Braze consistently knocks it out of the park when it comes to their relentless commitment to their customers, enviable results, and unwavering sense of teamwork.
Massive congrats to the CS Team of the Year at Braze! 🏆
---
Best Customer Success Tool
It's widely accepted that CS is defined by its focus on helping customers achieve their desired outcomes. Now, in our minds, it doesn't get more people-orientated than that. But customer success wouldn't be half as valuable if it weren't for the technology underpinning it.
The winner of Best Customer Success Tool is Catalyst! 🔨
Catalyst is a powerful, easy-to-use, intuitive tool that integrates your existing tools to provide one centralized view of customer data.
Its greatest USP is that it helps CSMs and CS leaders to assess and better understand their customers, as well as contractual details, risks, and opportunities. ✅
---
Most Innovative CS Breakthrough
Being a relatively new function, customer success is always evolving to power growth from within a business itself. That's why new industry developments are the propellers of CS, and ultimately, enable your customers to hit their targets.
We're thrilled to announce that the DCI Team and Brandwatch are the recipients of this year's Most Innovative CS Breakthrough award. 💥
Brandwatch has knocked it out of the park with their DCI assessment, a key tool that is open and accessible to everyone in the customer success community.
A big well done to Brandwatch! 🥂
---
Rising CSM Talent
We've already touched on trailblazing tools and industry breakthroughs, but innovation can come in numerous forms. In order for customer success to progress,  companies need to invest and nurture CS talent from the early stages.
You voted for the CSM who has shown the most potential and whose future career is one to watch.
And the winner is... Marissa Lim, CSM at Braze.
Congratulations, Marissa! 🚀
---
Top Company to Work in CS For
This award is our equivalent to the Oscar's Best Picture category.
It's the award that shines a light on the companies that value customer success as the integral, can't-live-without-it business function it is.  
The victorious company is the complete package – it nurtures talent, is innovative, and promotes a sterling company culture.
And we're pleased to announce that Braze is the top company to work in for customer success. 🙌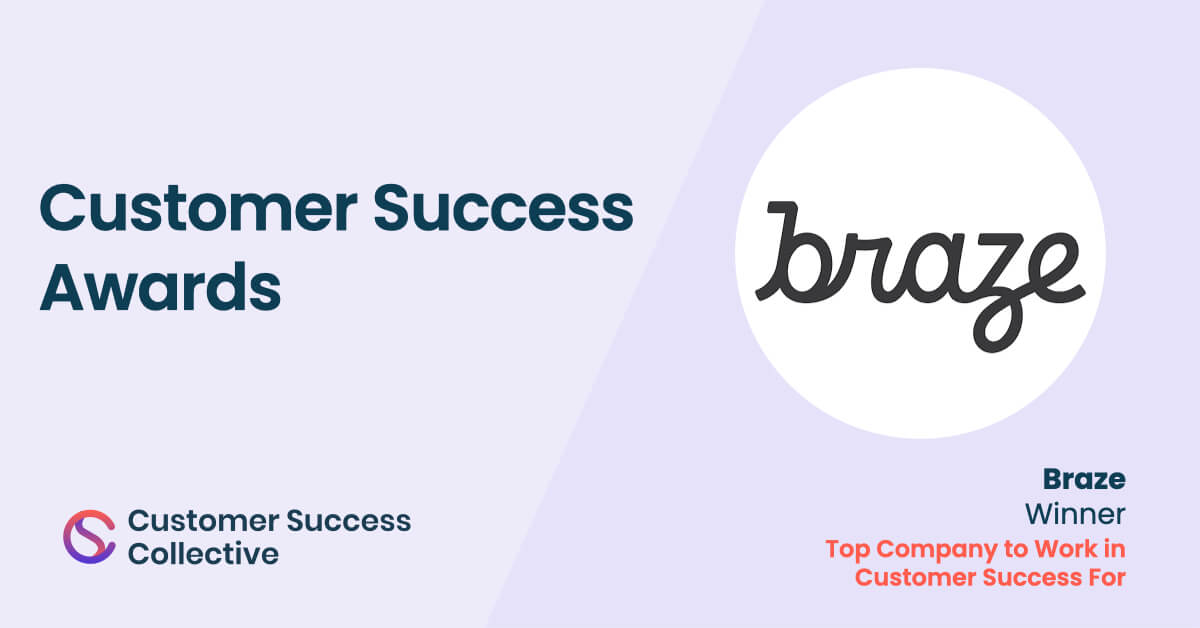 ---
Thank you
A big thank you to all who cast their votes in this year's Customer Success Awards. We think it's crucial to shine a light on the phenomenal talent in our industry, and we're thrilled to show off the best in CS.
If you didn't get a chance to nominate someone as CS MVP of the Year, fear not. We're producing a report on the Customer Success Influencers of 2021, which is your chance to tell us who you think is a CS rockstar, a trailblazer – a pillar of innovation in the customer success community.
So, tell us: who are the top influencers in customer success? 🗳️