For all the discussions around CS best practices and how you ought to implement strategies to counteract churn, none of them matter without understanding how to properly structure a customer success team.
You might have ten years of experience and a dozen game-changing strategies up your sleeve, but without putting your house in order, you won't be able to effectively act on these plans. Is your customer success team reporting to the appropriate department? What's the relationship like between customer success and support?
How can you fine-tune your CS team and make it sing?
To fully understand the vast landscape that is customer success, it's vital to first understand the nuanced mechanics of CS teams across the globe.
Who does customer success report to?
Despite many departments' close collaboration and their unification under the business' overarching goals, a team should answer to an individual(s) who has a full understanding of the work being undertaken. It makes zero sense to have a customer success team report to your graphic design team, for example. Or to have a product team report to marketing.
For your strategies to get off the ground, it's important to ensure the infrastructure of your team is offering the best chance at success.  
We were pleased to discover that nearly half of the people we spoke to (47.7%) work in a customer success team that reports directly to the CEO, 10% higher than our findings in 2021.
We found that 23.3% of CS teams report to the sales team, with much smaller portions of respondents admitting to reporting to the business development team (6.8%), the Chief Operating Officer (6.8%), the Chief Customer Officer (4.5%), the Chief Revenue Officer (4.5%) and the product team (2.3%).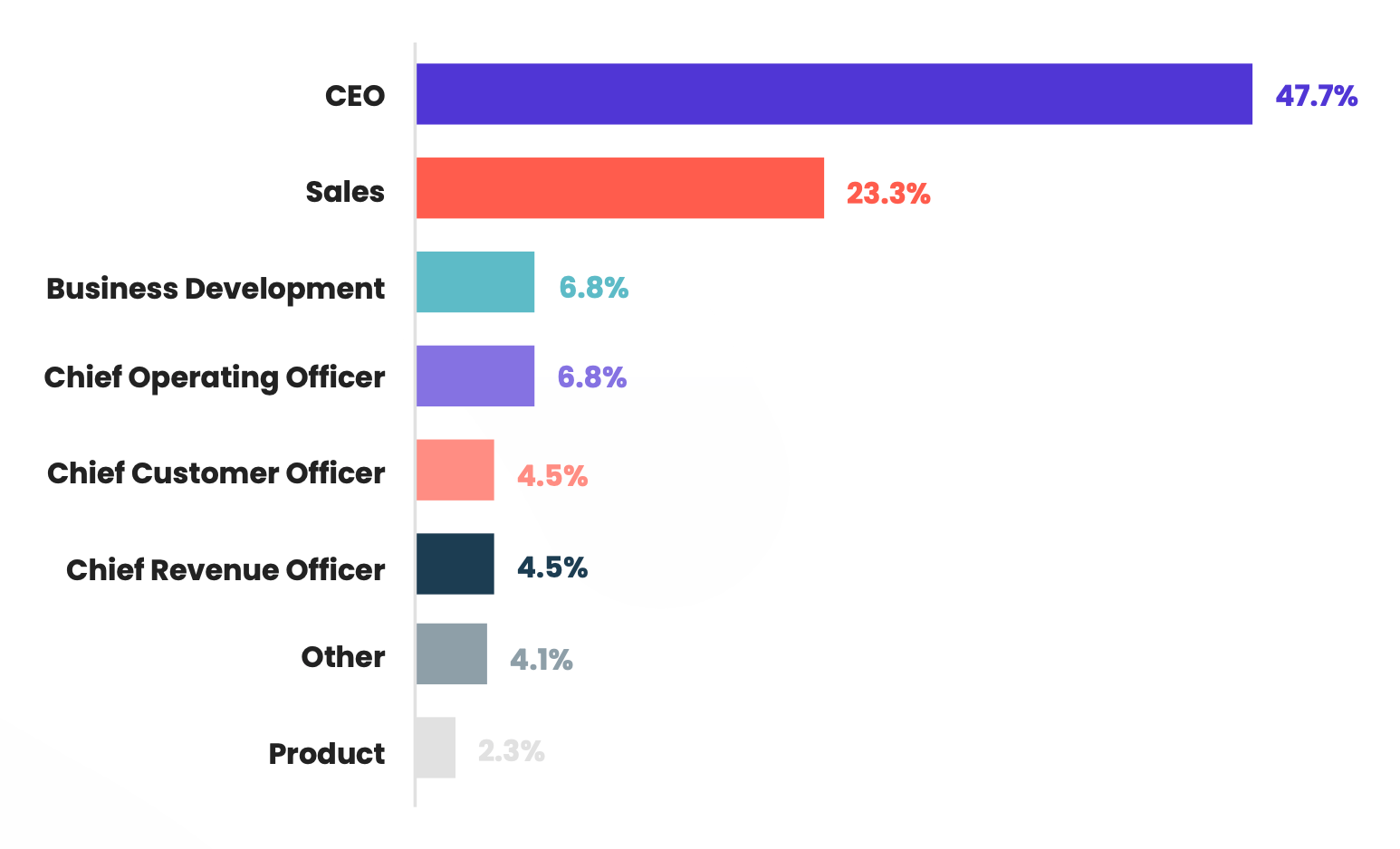 Keen to understand the dynamics at play here, we determined that of the 23.3% of CS teams reporting to the sales team, nearly half of these companies (47.8%) adhered to a sales-first culture. However, our theory that collated who a CS team reports to with company culture ran dry there.
If our supposition was correct, the CS teams who reported directly to the CEO would display a customer-first culture. By this logic, the importance of customer success has manifested in the display of importance by directly reporting to the top dog. Yet customer success has lived up to its hard-to-define nature and resisted such a clean-cut explanation. For all the CS teams reporting to the CEO, there was an even split between company culture – 32.4% are customer-centric, 37.8% are sales-first, and 29.7% are product-led.
Clearly, there is no correlation between who a CS team reports to and whether a company's culture is focused on the customer, sales, or product.

How many people form a customer success team?
When we did some investigating around how big customer success teams are. Although there hasn't been a stand-out common number, we found that more people are working in mid-sized teams of 10-19 people (22.2%) than last year – only 16.6%.
In other customer success functions, there are teams of 3-4 (20.5%), 5-9 (12.8%), 20-29 (12.8%) and even some with 30+ CS masters working their magic (18%).
How is the customer success function structured?
Regarding the structure of customer success teams, statistics can provide an interesting overview.
Still, to provide you with even more valuable insight, we asked our participants to share exactly how the function is organized within their respective companies:
"We have four different teams within the CS umbrella, all with their own Heads who report to the VP of Customer Success: the Customer Success Managers, customer experience, account management, CS operations."
"Our customer success function contains a team of dedicated CSMs, CS operations and a team dedicated to 'success at scale'. In addition to these teams, they're spearheaded by geographically appointed VPs of Customer Success (e.g. U.S., EMEA, APAC), regional leads (e.g. North America West, UK, Australia & New Zealand),  spearheaded by the Chief Revenue Officer."
"We have groups of up to seven-ish CSMs who all report to a manager, who then reports to the VP of Customer Success."
"In the company I work for, we have a Senior VP of Customer Success, who manages two VPs of Customer Experience, who, in turn, manage Customer Service Delivery Managers and CSMs."
"Our team is comprised of four CSMs and the accounts are divided accordingly with all of us reporting directly to the CCO."
"Our company has categorized customer success into three groups: Associate CSMs, Growth CSMs and Enterprise CSMs, who report to the Director of Customer Success, who reports to the Global Customer Experience Team Leader"
"I make up one of seven CSMs in my team who report to our Manager of Customer Success. Our manager then reports to the Senior VP of Pre and Post-Sales, who then reports to the COO.
"In addition to the CS team, we have a CS Ops team of four people. They manage all accounts under $4k MRR. Each account over $4k MRR is assigned a dedicated CSM."
"After a company lay-off, I am the customer success team; I report to the CRO, who reports to the CEO and founder of the company."
"CSMs roll into market segment leads, which roll into regional directors, which roll into our Senior VP of Customer Success."
How customer success teams collaborate with their colleagues
When asked which team(s) customer success functions work most closely with, a vast majority of CS professionals said sales (78.8%), with a similar amount, also responded with their product team (72.9%) - but there should be no great surprises there, right? It's interesting to note that 21.2% and 27.1% of CS practitioners don't work closely with their sales and product teams, respectively.
With the CS field being cross-functional, and supporting so many other teams within a company, it comes as no surprise that survey participants also cited several other teams they work in close proximity to.
Just over half of our respondents (50.8%) report working closely with their customer service team, whilst just over one-third (37.2%) directly support their marketing function. Only one-quarter of people (25%) work closely alongside their company's engineering function.
This year's findings are not at all similar to 2021's results, except for finance and sales enablement. It seems that over the past 12 months, CS leaders have distanced themselves from their sales, marketing, product, and engineering departments.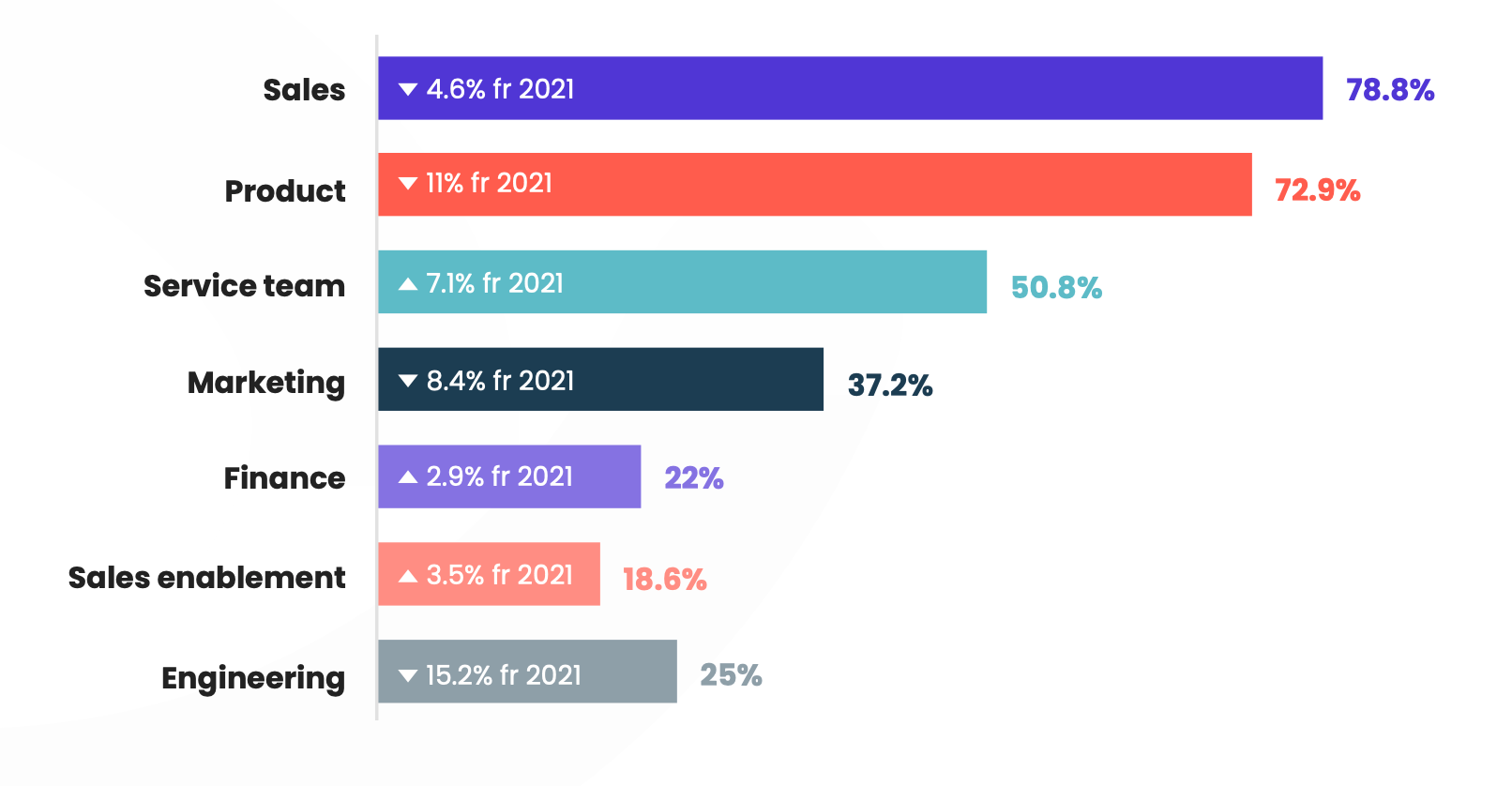 The intersection between customer success and customer support
We quizzed our survey respondents to gauge, on a scale of 0-5, the role customer support plays in their customer success function. After all, success and support have famously gone hand-in-hand; both functions are customer-facing and utilize many of the same KPIs.  
42.2% of people revealed their support and success teams work closely with one another daily, a further 19.8% claimed that support frequently helps CS with their work, and only 19.8% of respondents admitted that success and support are one team in their company. Compared to last year, this figure is shockingly low; in 2021, over half (51%) divulged that their customer success team is part of their company's customer support team.
We were encouraged to see that there are very few cases of support teams not engaging with a CS team (4.3%), and even fewer cases of support not contributing to the CS function at all (2.6%).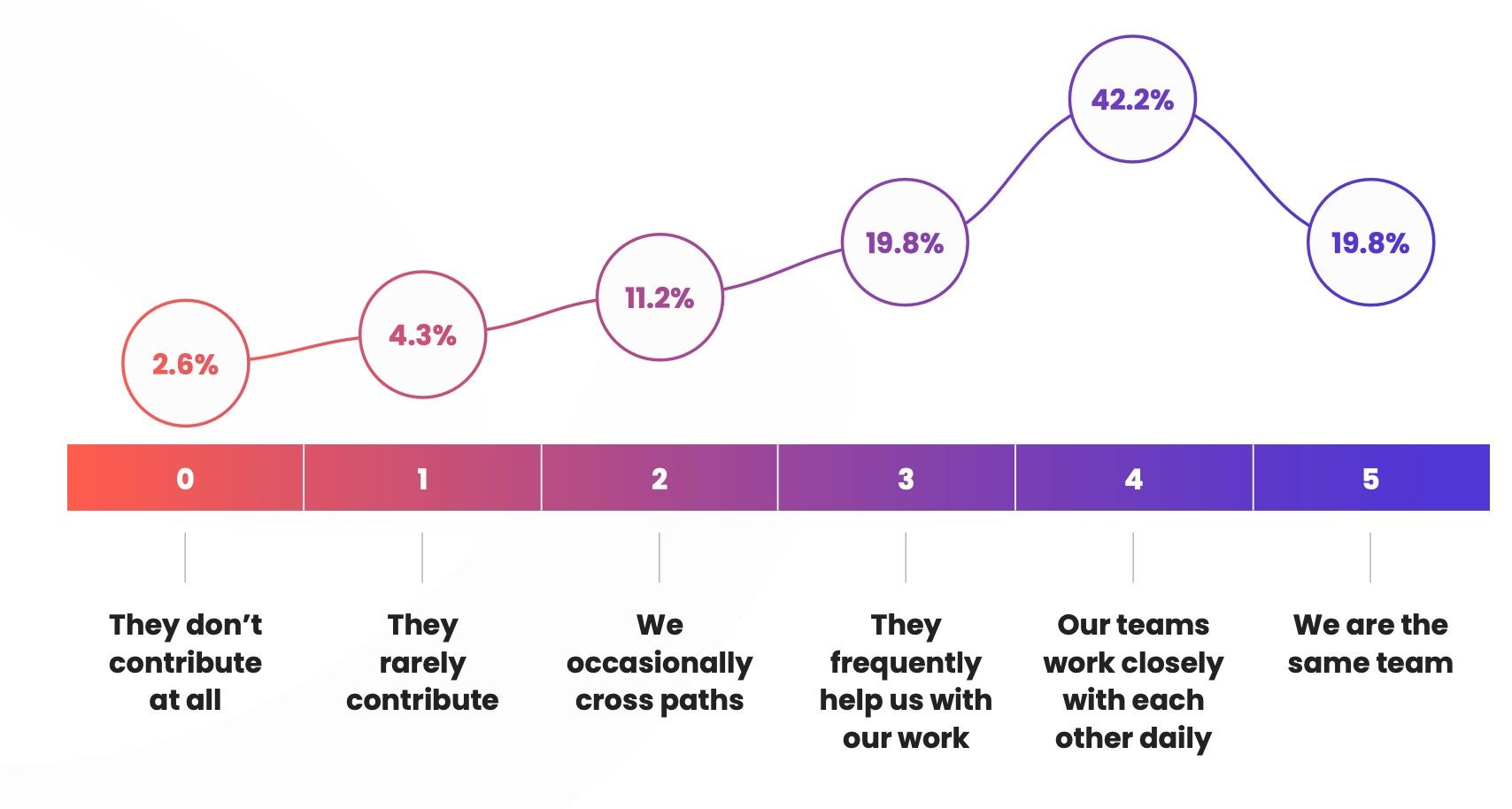 Responsibilities of customer success teams
After poring over the infrastructure of CS teams, we now come to the big 'un, the $64,000 question: what do CS professionals actually do? To quote beloved Stranger Things (2016) character, Dustin Henderson: "We should never stop being curious, to always open any curiosity door we find". And that's just what we've done.
When people hear 'customer success', a natural association to make would be 'helping customers best use a product; to get the most out of it'. Think, onboarding; think, product adoption.
It's a human-led discipline with a data-driven approach. To understand customer behaviors and demonstrate their department's famous empathy, CS professionals need to first digest and translate the data behind the decisions.
Shockingly, only 60% of our respondents claimed to be responsible for customer onboarding, less than 7% compared to last year's results. When reviewing this data, we initially wondered whether our demographic was more preoccupied with management than the work of individual contributors, but 40% of this silo of respondents identified as CCOs, VPs, Directors and Heads of Customer Success, which whittled down the pool of CSMs even lower.

As predicted, ensuring customer engagement was high (81%), but 9% less than this figure in 2021. The same pattern can be observed for all responsibilities: churn management (-6%), improving tutorials and other communication infrastructures (-15%), holding product demos (-11%) and analyzing customer data (-9%).
Surprisingly, the mantel of generating new business – a realm ordinarily left for the departments across the sales funnel, like marketing and sales, themselves – was higher in our research this year than in 2021.
While this figure is still low in the grand scheme of things, perhaps (as the world strives to regain normality in a post-COVID-19 world) there's now a greater emphasis for CS teams to produce new leads via their satisfied customers' word-of-mouth reviews.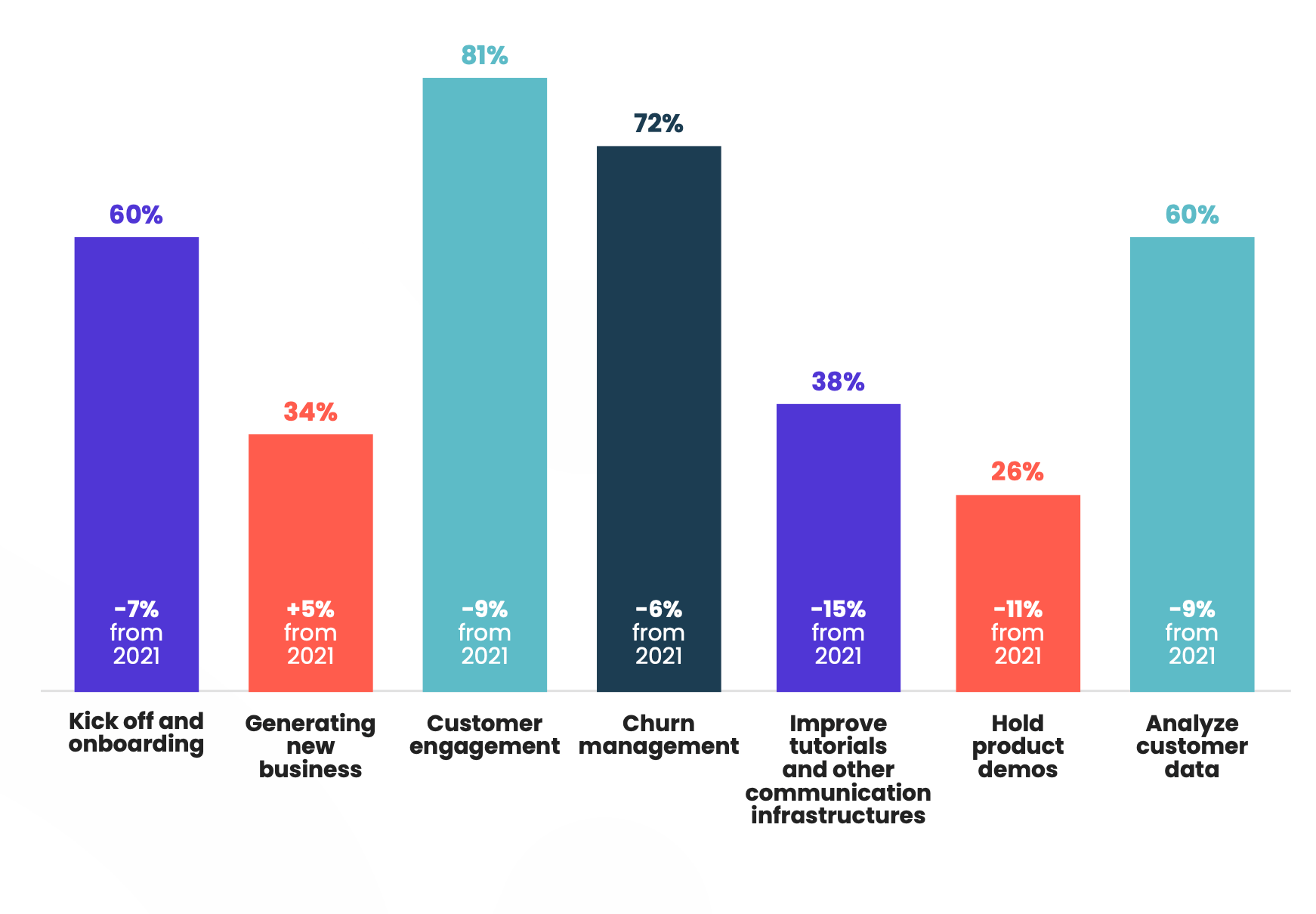 Other responsibilities included increased product adoption, upsells and renewals, customer success enablement, and revenue growth.
---
If you liked this article, be sure to have a read of the full, unadulterated report, The State of Customer Success 2022.