What happens in Vegas, stays in Vegas – apart from the priceless insights you'll be picking up from the Customer Success Festival and bringing back to your company.
We've all heard the slogan. In fact, it's practically synonymous with one of the world's most celebrated cities for nightlife.
You've got some of the best restaurants in the world on your doorstep, casinos open 24/7, not to mention the legendary music acts who grace Vegas' stages. Add the show-stopping customer success function into the mix, and you've got a recipe for a rip-roaring rendezvous.
On June 23-24, 2022, Customer Success Collective is hosting its first-ever in-person event in (you guessed it) Las Vegas!
Over the span of two days, CS professionals will be flying in from all over the world to bear witness to some of the most cutting-edge talks in the customer success community to date.
If you're on the fence about attending, maybe in need of a little more convincing, then we've prepared a handy article detailing ten reasons why you ought to stop, re-evaluate, and book that ticket pronto.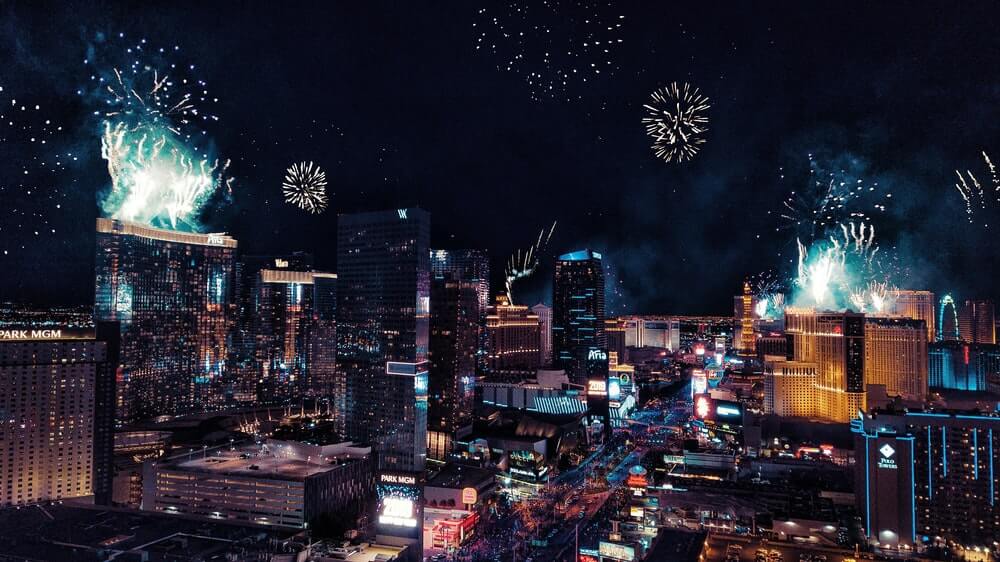 And for those in two minds, what better reason better than the location itself? Vegas is waiting for you!
Other than the lure of stimulating presentations and long-awaited in-person networking, here are eight more reasons to look forward to your trip to Las Vegas:
Onboard at the Bellagio Hotel
We knew only the best was fitting for our inaugural in-person conference, and what better than the legendary Bellagio Hotel & Casino resort? ⭐️
Inspired by its namesake, a village near Lake Como, the resort is dripping in the famous extravagance associated with the Vegas brand. Whether it's the opulent fountain display or the distinctive contemporary architecture, the Bellagio is quintessentially Vegas.
When it was built in 1998 at the cost of an enormous $1.6B, it was the world's most expensive resort at the time. Segue to the present day, the hotel is still one of the most recognizable landmarks in Vegas, having featured in one of the greatest cinematic marvels of the twenty-first century, Ocean's Eleven (2001).
So, if you're after the archetypal Las Vegas experience, look no further than the doorstep of the Customer Success Festival and stay in one of the 3,933 guest rooms  – we think that ought to be more than enough for all our festival attendees! 😉
Put your risk management skills to practice at a casino
After its golden, luminous skyline, framed by its 400ft fountain displays, Las Vegas is probably best known for one major thing: its casinos. 🃏
Just as LA's identity is intertwined with the silver screen, Las Vegas takes the mantle of the gambling capital of the world. Unsurprisingly, its card-playing connection has opened the city to yet another adopted name, the somewhat tongue-in-cheek nickname: Sin City
Whether you're a seasoned poker player with your sights set on recreating the nail-biting scene in Casino Royale (2006), or fancy trying your luck at the slot machines, there's something for everyone, regardless of experience.
Guaranteed weather means guaranteed (customer) satisfaction
If meteorologists gauged the popularity of Las Vegas' weather conditions, we'd hazard a guess that the city would score 10s across the board. (No doubt the customer success leader in you will be wondering how to simulate that customer satisfaction score with your own customer base!) 🌞
Nestled in the Mojave desert, Las Vegas boasts more than 300 days of sunshine per annum – a statistic certain to turn the heads of sun-worshippers the world over. Whether you're flying into the festival for a two-day stint, or plan to make a long weekend out of the festivities, you will be guaranteed sensational sunshine and warmth from Nevada's most populous city.
Take your own customer success advice and focus on your personal (music) goals
Have you always wanted to see your favorite singer? Did the pandemic get in the way? Well, now's your chance.
"Alexa, play 'Don't Stop Believin'' by Journey." 🎵
Not only is Las Vegas renowned for its casinos, but it's also a world-leading music destination.
Home to some of the most famous residencies in the history of popular music, its stages have been graced by the music legends: from Aerosmith, Bruce Springsteen, and Cher to Drake and Elvis, Vegas offers world-class entertainment utterly unparalleled.
What better way to see out a phenomenal two-day Customer Success Festival than to spend your Saturday night watching some of the world's best artists?
De-stress by focusing on your own (customer) health
"The people who say New York never sleeps must have never visited Las Vegas" is a well-trodden quip added to the bank of witticisms attached to Vegas' repertoire as the 'world's playground'.
While Sin City boasts legendary nightlife, you needn't worry about 'burn-out': Las Vegas is first, and foremostly, a vacation destination. 😎
If the club and casino aren't your jam, there's plenty else (if not more!) to preoccupy yourself with. After soaking in the inspired insights from our speakers at the Customer Success Festival, the city is your oyster. Whether you decide to relax by chowing down on a mouth-watering meal at one of the 4,000+ restaurants in Las Vegas, or get that serotonin boost by unwinding at a comedy show, there's a wealth of possibilities to fully relax and focus on your own well-being.
The clientele is second-to-none
Bottom line: It's iconic
Like many cities, Vegas is a pop-culture institution in and of itself.
While we might be slightly biased due to a certain world-class, two-day customer success extravaganza occurring on (*checks notes*) June 23-24, Las Vegas is a destination worthy of any bucket list and is the perfect place to have some well-deserved R&R.