Navigating and understanding the various metrics needed to measure customer success is challenging enough.
Fear not, because we're here to bring method to the chaos! In collaboration with Catalyst's VP of Finance, Deirdre Mullen, we're unlocking the metrics vault to help you:
Discover 14 key metrics that empower post-sale leaders to take control of customer outcomes.
Learn how each metric aligns with your strategy, providing clear direction for driving customer growth.
Building a strong foundation: Top metrics to gain control
Being able to understand the financial impact of your customer-centric efforts truly will help you refine your strategy, clearly articulate your value and strengthen forecasting for strategic long-term decisions.
Here are the top metrics you should closely monitor to clearly understand where to spend your time and resources on driving customer performance.
#1-2: Customer churn and logo retention
Customer churn and logo retention are critical metrics for any business to manage. At the end of the day, this is your lifeblood (your recurring revenue) to maintain.
Naturally, post-sale teams own these important metrics and it all comes down to proactive customer success rather than reactive. Churn occurs when customers don't see enough value in your product, leading to dissatisfaction and a lost agreement on their investment.
How customer success can impact churn and retention
To keep your most valuable revenue asset, it's crucial to maximize the value received throughout the customer journey. The good news is that this doesn't necessarily mean more work for your team. Solutions like Catalyst Playbooks, Journey Builder, and Champion Tracking can help you deliver a proactive experience, reduce churn risk, and save your team time.
Here are two formulas for you to build and track these metrics. We'll touch on the big ones (NRR and GRR) at the end and in the cheat sheet!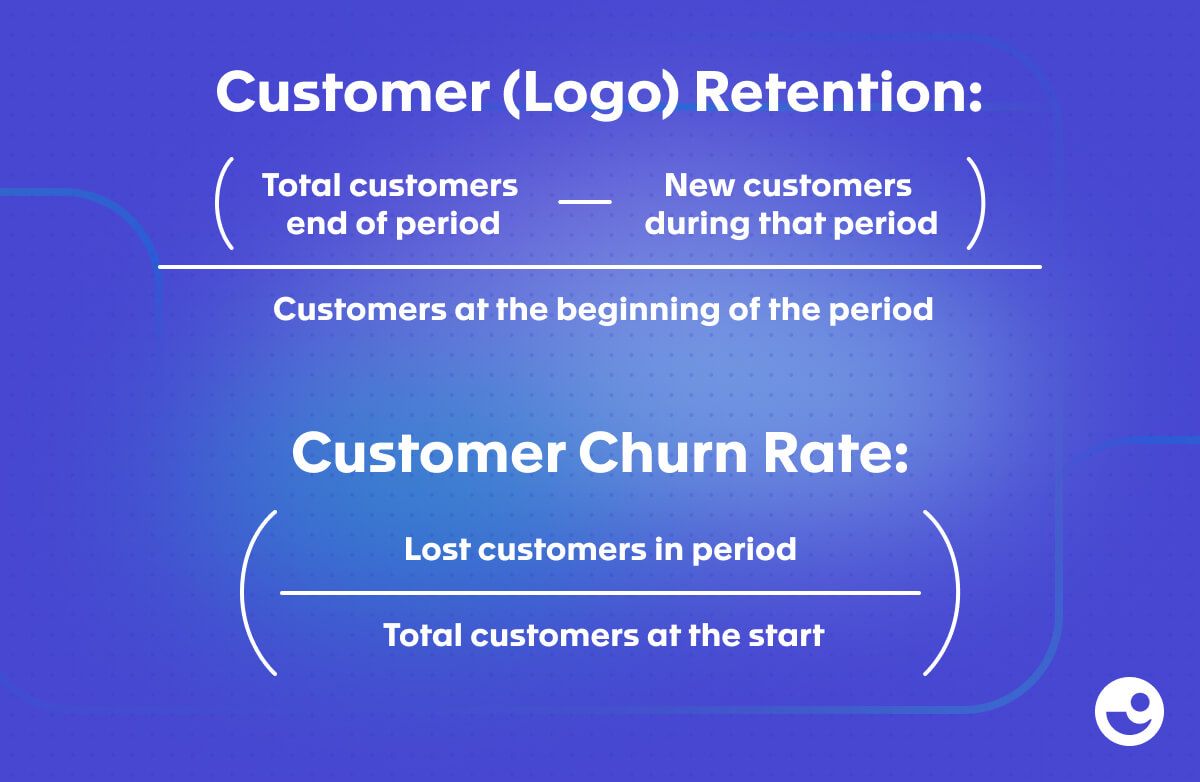 #3-6: How it started (CAC) vs. how it's going (CLTV)
Customer lifetime value (CLTV) and customer acquisition cost (CAC) are fantastic metrics that help you measure your value in the market. A lower CAC indicates you require less marketing and sales efforts to bring in customers—and it can also mean your pre-sales engine is efficient at targeting the right customers.
A higher CLTV means you can generate more long-term revenue throughout the customer relationship, less these initial acquisition costs.
How customer success can impact CLTV and CAC
While CAC is largely up to pre-sales, customer success can still help out in two key ways:
Support the customer expansion process to drive growth more efficiently from existing customer relationships, which also supports many CS metrics including NRR.
Share the voice of the customer with pre-sales teams for more efficient targeting of your ideal customer profile (ICP). When you can start your relationship with the right customers, you'll get a head start on optimizing CLTV for the long term.
When it comes to CLTV, this is another big success indicator for CS that can be impacted in the following ways:
Work very closely with product to establish the right adoption plans, roadmap prioritization, product launch communications, customer journeys, and more, that increase value over time through your product.
Essentially all customer success activities and resources across onboarding, adoption, and renewal will play a big factor in CLTV. You must understand your customer needs, map how your solution aligns with their job, and determine how to drive value moments at every step.
Customer acquisition cost:
(Sales + marketing costs to acquire customers in a given period) / new logos in a given period
CAC payback in years (annual numbers):
CAC / (ARR * gross margin %)
Customer ROI:
(Average revenue per customer x gross margin % ) / (% of churn / CAC)‍
#7. Customer expansion through upsells, cross-sells, and usage
Every customer success leader should aim to make customer expansion their secret sauce; even if it's owned by sales or account management. Especially in today's market, increasing revenue through your customers has never been more critical.
How customer success can impact expansion and usage
The exciting thing about expansion is it may seem more challenging or delicate to go after than new business, but there are multiple ways that you can drive expansion:
Upsells involve upgrading a customer's existing product or service to a higher-priced version. Being able to do this largely depends on whether you have platform tiers to upsell customers into.
Cross-sells involves selling additional products or services to an existing customer, often referred to as product add-ons.
Usage-based expansion (also called overages, license growth, true-ups) involves growing a customer's current usage of their platform tier, typically determined through new licenses, data storage and expanding current platform modules à la carte.
Expansion has become a growing mandate in CS to make up for lower sales performance. As a result, many teams are determining their expansion motion for the first time, and here's a few ways to increase your impact:‍
By understanding a customer's goals, growth projections and key use cases for the platform, CSMs must proactively think about what products and/or upsells can further their customer's own performance.
Facilitate a clear pass-off to sales, if required, through a customer success qualified lead (CSQL) process to support expansion pass-offs without damaging relations.
Leaders should enable CSMs with clear expansion plays that deliver the guidance their team needs in this commonly unchartered territory.
Analyze and understand your biggest expansion targets. Segment the data by industry, size, and other attributes to understand who is most likely to purchase an upsell or add-on.
💡
Tip: We recommend having a monthly cadence as opposed to a QBR/EBR. This can be a great time to check in on potential expansion plays each month and offer solutions when it's appropriate (not forced).
Customer expansion ARR or MRR:
Total monthly or annual revenue from upsells, cross-sells and add-ons
#8-9. Customer health and sentiments
Don't forget to balance both the quantitative with the qualitative! Whether you use CSAT scores, NPS or other sentiment measures will largely depend on your business model and the means that you have to collect that data, i.e. NPS tools.
Beyond customer sentiments, we also advise measuring the overall health of each account using a custom health score formula.
How customer success can impact health and sentiments
When it comes to customer sentiments and health scores, they are the culmination of your efforts across growing product adoption and strong customer relations. Below, we will provide the calculations for NPS and CSAT, but health scores are a unique formula specific to your business, which we'll break down in more detail below.
Formulas for you to build and track customer health:
First and foremost, you'll need a dedicated platform like Catalyst to build a custom-weighted health score. With Catalyst, health score inputs are flexible to your customer's leading health and risk indicators, and they can be further customized by their unique customer profile (industry, size, product line, etc.).
(P.S. We've included an alternative CSAT formula in the cheat sheet. 👀 )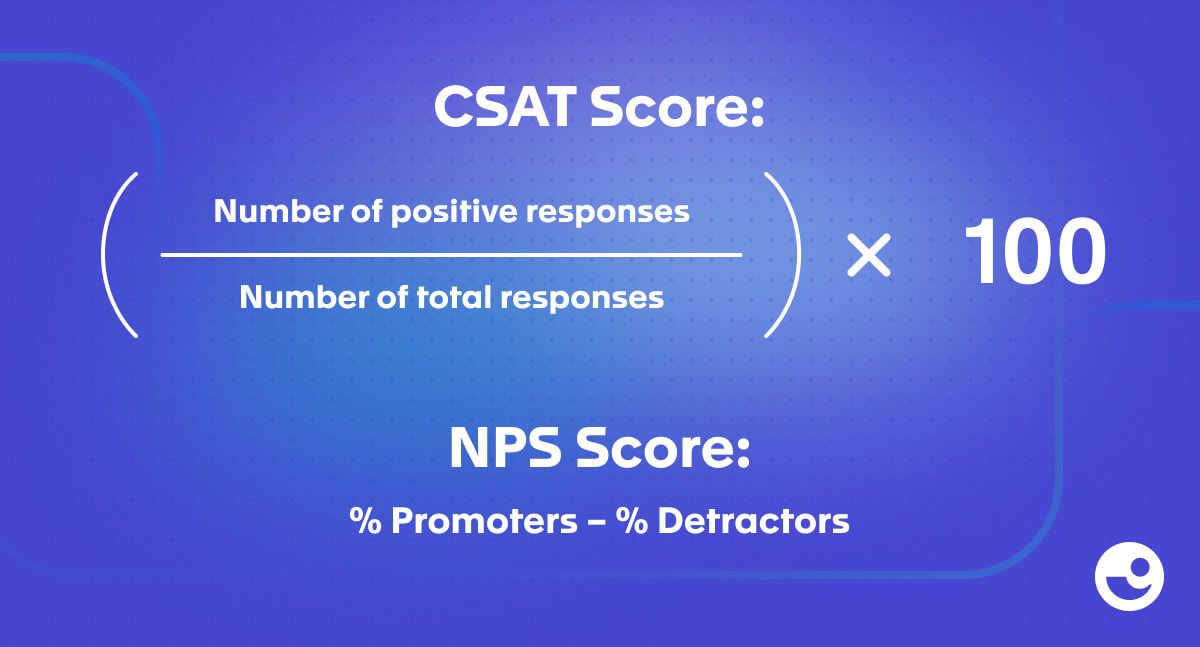 #10. Calculating the customer success magic number
You may have heard of the SaaS magic number, a powerful single metric that tells you the efficiency of your sales and marketing spend – but are you aware of the customer success magic number?
Bringing everything all together, this metric can really give you an understanding of how much power and effort you must put into retaining and expanding your installed base of customers.
How customer success can impact the magic number
The magic number requires four data inputs on a per-period basis (e.g. month, quarter, or year depending on your business' typical operating/reporting cadence):
ARR of customers renewed in period
ARR of upsells in period
Total cost of customer success team in a period
Total cost of the customer support team in a period
A best-in-class CS magic number is 5.0+. In other words, if you're spending $1MM on CSMs and support in a period, the team should be responsible for contributing $5MM toward your net dollar retention rate from both renewals as well as upsells/cross-sells.
This means not only is your customer success function more than paying for themselves, but they're also driving significant revenue for the whole organization.
Calculate your customer success magic number:
(ARR of customers renewed in period + ARR of upsells in period) / (Total cost of customer success team + customer support team in the period)
#11-14. Tallying it up with ARR, NRR, GRR
Gross revenue retention (GRR) and net revenue retention (NRR) are the two key financial metrics coming out of customer success. Everything the team does as outlined above will roll up into the success (or shrinking) of these numbers.
And, an important note on annual recurring revenue (ARR). Be sure to understand whether your company reports based on ARR or CARR, committed annual recurring revenue, to determine how you report on your top-level metrics. We've included these calculations for you below!
Annual recurring revenue (contract start/end):
Amount of recurring revenue expected to be generated in the next year, based on when contracts start and end
Committed annual recurring revenue (contract closed/won):
Amount of recurring revenue a company is expected to generate in the next year, based on when contracts are signed
Net revenue retention:
‍(Starting ARR + expansion – downgrades – churn) / Starting ARR * 100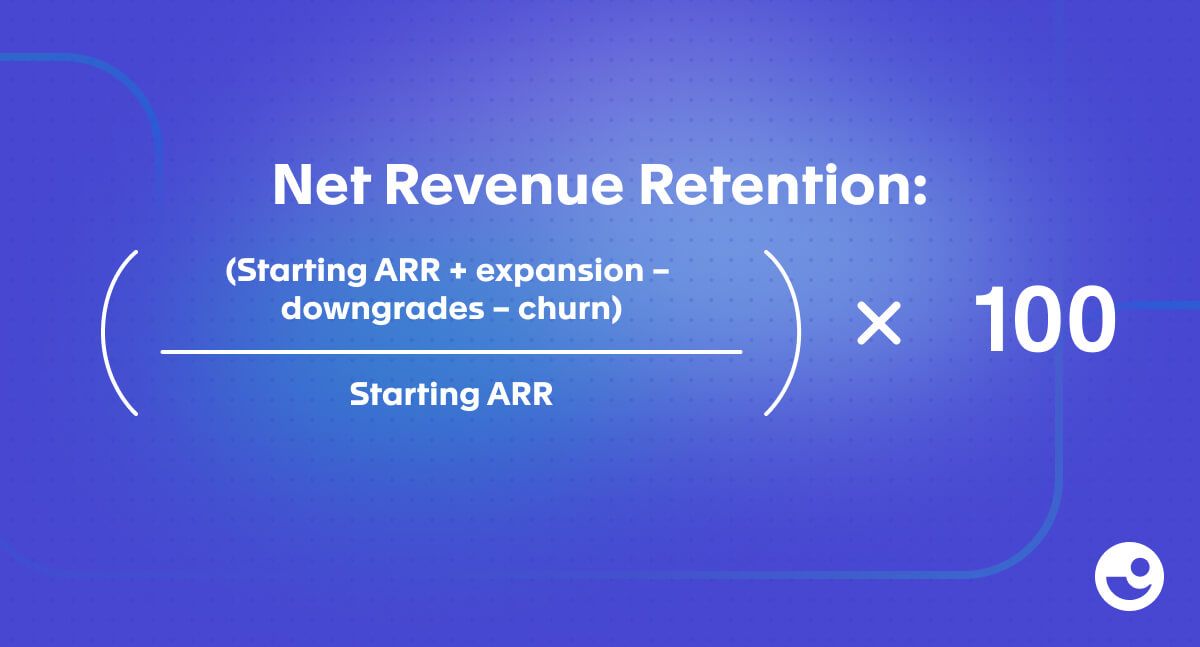 Gross revenue retention:
(Starting ARR – downgrades – churn) / Starting ARR * 100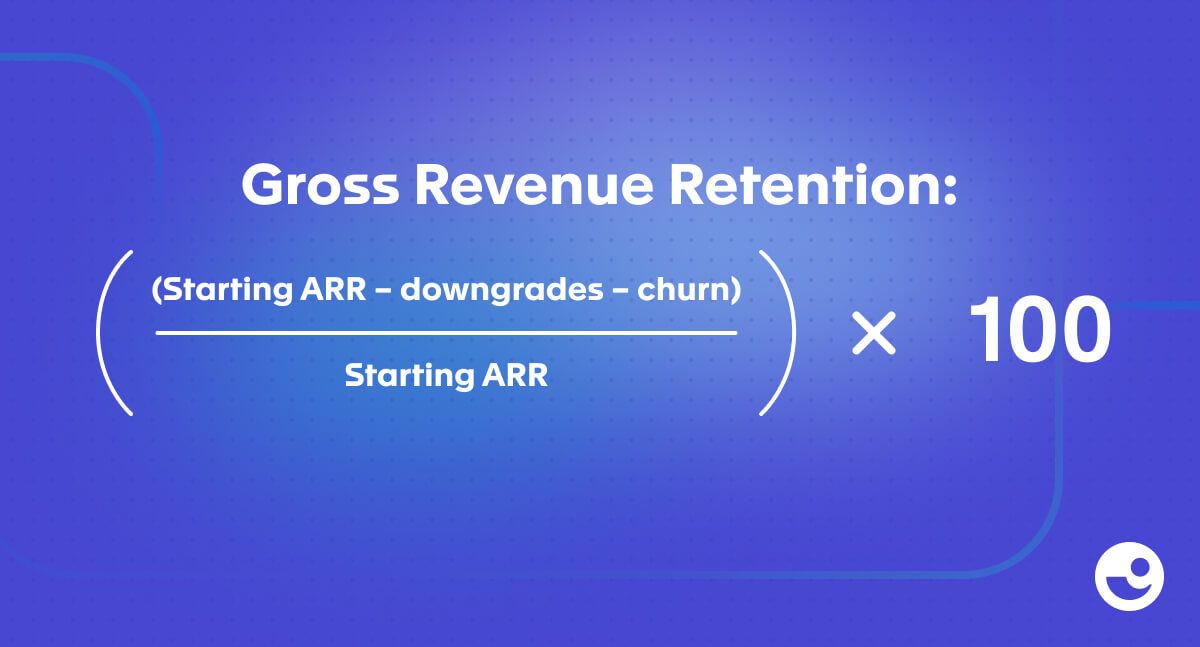 Ready to take action?
Stay on top of your performance with our SaaS metrics cheat sheet (and yes, it's a full calculator)!
Get the insight you need to drive faster customer outcomes and revenue impact.