Customers are the lifeblood of any business, you don't need us to tell you that.
There are several strategies for retaining customers (many of which we've written about) that can help transform your bottom line, but today we're going to focus solely on the importance of building lasting relationships with your customers.
With so many options at their fingertips, customers are consistently evaluating the relationships they have with the services they use on a regular basis, and if you're not taking care of them, the likelihood is they're taking off.
So let's take a look at the three major benefits to building strong customer relationships.
Reduce churn
According to Hubspot, over the last five years, the cost of acquiring a new customer has increased by 60%, concrete evidence it costs way less to keep a customer than it does to acquire a new one.
Increase customer lifetime value
Your customer lifetime value (CLV) refers to how much revenue you can expect from a customer over the lifetime of your business relationship. Customer satisfaction is one of the primary drivers behind improving your CLV.
A happy customer makes progressively bigger (and on average) more purchases.
According to a survey Forbes conducted, customers on average are willing to spend 17% more for great service.
Earn brand advocates
Treat your customers so well, they want to shout it from the rooftops, 92% of consumers trust word of mouth recommendations more than any brand promise or company advertisements, and 82% proactively look for recommendations from peers when thinking about making a new purchase.
So now we know the why let's take a look at the how.
It's worth noting that relationship building is more of an art than a science, but we can offer some best practices to start you off on the right foot.
1. Get to know your customers
Get to know your customers, their company, and their industry. Take the time to get to know your customer base, if you're speaking to them directly share something about yourself to open up the lines of communication beyond just business, (but keep it professional obvs).
A great way to understand your customers is to leverage your company's social media accounts to interact with them. Solving customer complaints or queries on this platform shows existing and prospective customers your excellent attitude to customer satisfaction.
Nike is excellent at this and even has a dedicated customer service Twitter account @teamnike, ready to pounce whenever a customer mentions Nike's main Twitter handle.
They're flooded with requests all day long but remain patient and firmly on the side of the customer.
Just take a look at this interaction: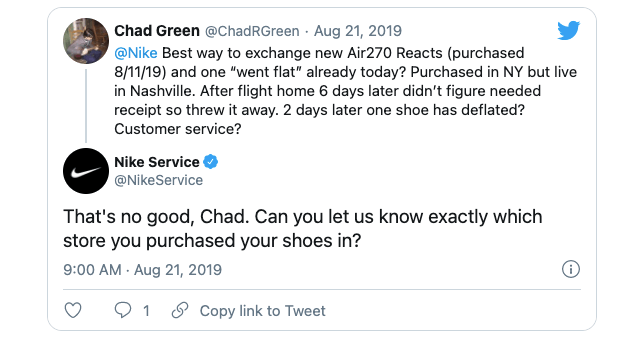 Nike resolved the issue in just five hours.
Personal surveys can be very insightful too, they're also one of the better ways to get honest feedback you can implement to improve your service. Offer a little incentive for people to take part, it doesn't have to be much, a Starbucks or Amazon gift card can go a long way in securing respondents.
And last but not least, always keep up to date with what's going on in your customer's industry, to better understand what's driving their business and the solutions you can offer.
2. Exceed their expectations
Your customers expect a certain level of customer service when signing for your product, find out what that level includes and exceed it. Go above and beyond to make your customer feel valued. Send an unexpected birthday discount, congratulate them on a promotion with a coupon code, make them feel important and appreciated.
Little touches like personalizing each interaction you have with your customers can go a long way in building a solid relationship. Leverage your customer database so your agents have the right information ready to anticipate issues and suggest solutions.
We'd recommend surveying your existing customers to gauge what they've come to expect from your service, then top it, exceed expectations.
3. Stay one step ahead
The knowledge you need to succeed here goes beyond software support. If there are any tactics or emerging tech that could benefit your customers it's imperative you let them know and advise them how to utilize them to their benefit, before they let you know. If your customer has to bring this to your attention, you can almost guarantee any faith they had in your expertise is gone. How do you let them know? Product release notes.
Sharing release notes on a regular basis is a great way to set expectations, let your customers know what you're working on, and keep them excited about what's coming next.
Distribute them via email, a blog post, in-app messaging, or social media, just remember to keep them brief, engaging, and jargon-free.
Slack is a great example of a company that utilizes every platform to keep its users informed.
Just check out this GIF they made for Twitter! Engaging, informative, and educational!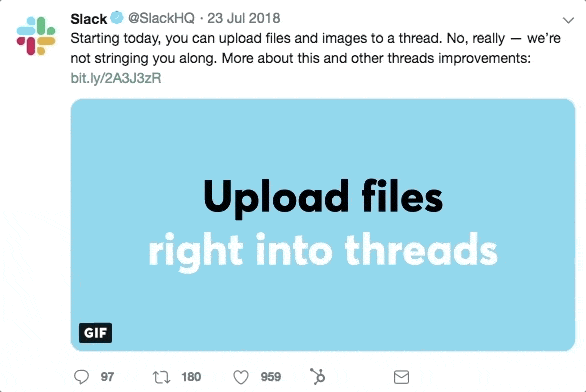 Their in-app release notes are just as fantastic too, jargon-free, concise and in parts quite funny.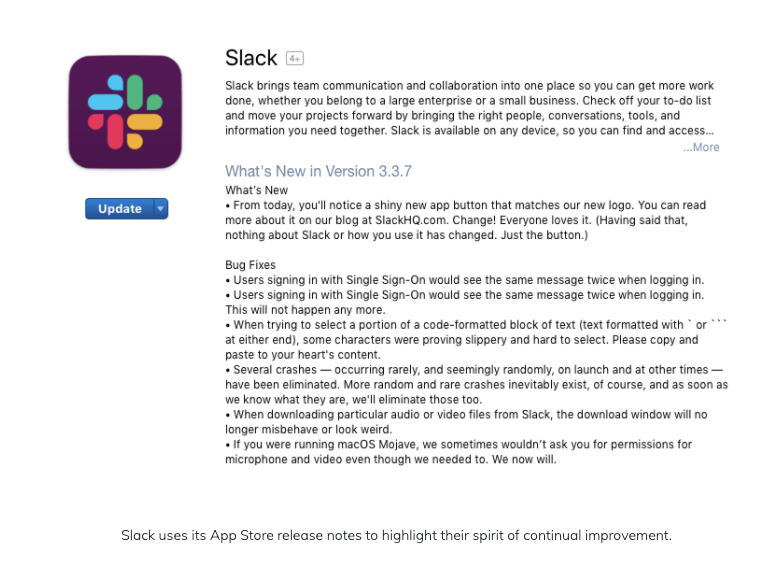 4. Monitor customer activity
Figure out a timeline that pinpoints exactly when you'd identify a customer as being inactive.
If your CRM is connected to your software, use this data to uncover when they started to become disengaged. A significant amount of inactive users could signify your onboarding or account management processes need improving. What constitutes a user as inactive can vary from industry to industry - for example, Trello labels users as inactive if they haven't logged in for 90 days but the general consensus is around 15 to 30 days.
Once you know how many inactive users you have, it's time to entice them back! You could offer discounts or special promotions for former customers, put together an email that outlines all of the things they've missed while inactive, and maybe even give them a sneak peek of what's to come.
Here's an example from Hulu.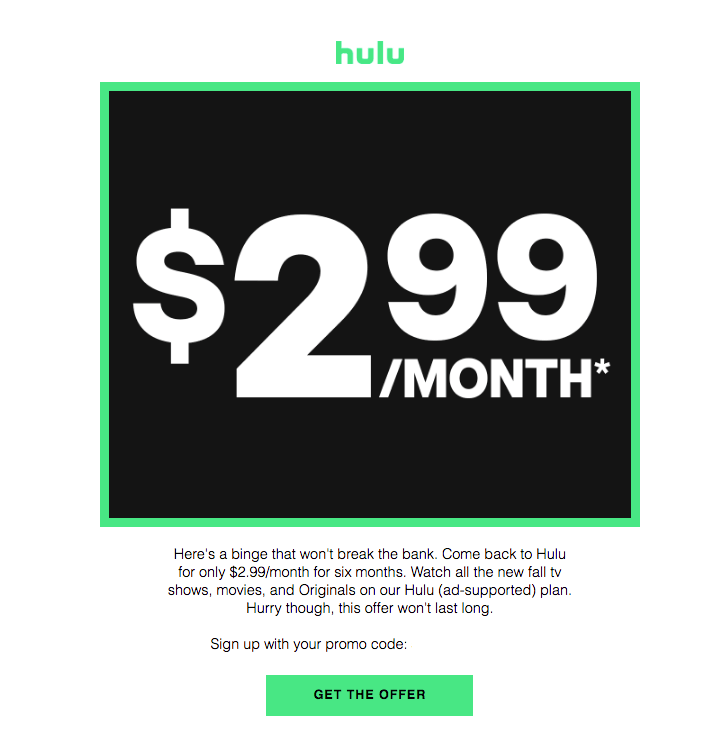 This works especially well because it targets churned customers, not trial users.
Since it's offered to users who are already familiar with the service and its value it's statistically more likely to pay off.
Canva, use the 'show them what their missing approach' in the next example>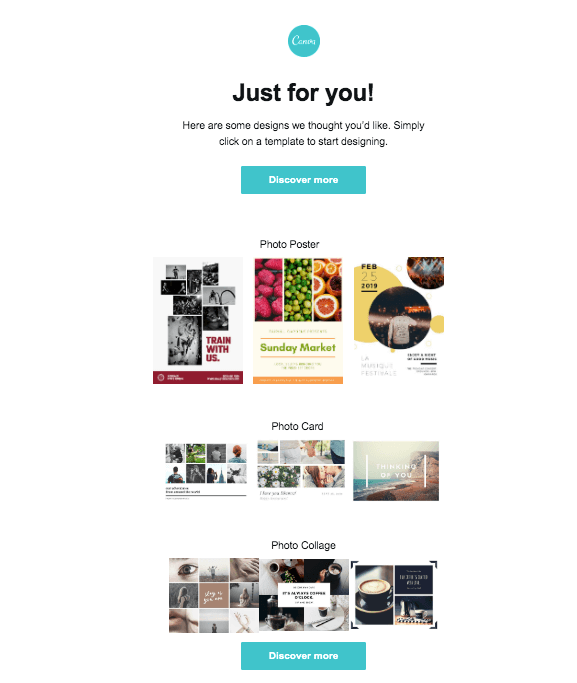 Canva collates a personalized collection of visual and aesthetic delights for their churned customer by tracking in-app actions and sending emails based on their product behavior.
If all else fails, it's important to find out why your customers left in the first place so you can avoid it happening again.
5. Communication is key
Ahhh communication, the cornerstone of any successful relationship. If a customer emails, respond to them promptly, it's as simple as that. We've all dealt with customer support that's taken so long to respond, that by the time their email gets to you, you think what's the point? It almost certainly costs them a repeat sale too.
You don't have to drop everything to address their concern straight away but at least acknowledge the email and let them know you're working on it. Give them a timeframe for when you'll follow up for maximum brownie points.
For example, here's what Teachable automatically sends customers when they raise a ticket:



While we're on the subject of communication, if you want to know how your customers feel about your service, ask them! An honest answer that stings in the short-term can heal the relationship long-term and inform how you manage the relationship further down the road.

It doesn't need to be a long, intrusive survey, either. Just a quick pop up with a couple of questions, like:

How are you enjoying our product?
Are there any additional features you'd like to see?
How could we improve your experience with us?

Can go a long way in helping you top up your data supply and creating a picture of how your product can be even better.