Onboarding new customers is one of the activities a Customer Success Manager (CSM) has to do with varying degrees of regularity.
While in many organizations it's a trivial and repeatable procedure, I'd argue that, especially for an enterprise CSM, onboarding is a key component for the future success or failure in building strong relationships with a customer.
As such, it needs a unique component that will make it more meaningful than checking items off a list.
The customer onboarding checklist
There are many onboarding checklists available online; perhaps the company you work for has one too. It goes without saying that you need to prepare your onboarding materials, customer credentials to access your software and support desk, and any paperwork that needs to be covered.
What's even more important for you, as a CSM, is to establish who you should be talking to, what was promised to them, what was delivered, and where they want to be in the long run.
Stakeholders
If you've worked as a CSM for any length of time, you'll know that stakeholder management is your bread and butter. The first step in onboarding is understanding who you should be talking to – decision makers, budget holders, champions, and adversaries.
If you're lucky, you'll get a C-Suite level champion who loves your product and has enough time to evangelize within their organization. However, more often than not, the C-level will participate only in quarterly business reviews (QBRs) to assess the value their company is getting (or not) and you'll be dealing with lower-level employees most regularly – think program managers, product owners, heads of IT, and other department heads.
Consequently, while not being decision-makers or budget-holders themselves, they'll be your key stakeholders. You need to make sure that they feel heard and appreciated, and that there's a spirit of partnership rather than competition in interactions with senior management.
Deliverables
You need to have a clear picture of what the customer's expectations were when they signed the contract, what your organization delivered, and what the gap is if any. Unfortunately, it isn't rare to have a disconnect between what was documented in a contract or even project requirements, and what the customer received.
If that's the case, it would be useful for you to understand the reason for the disconnect. It might have been an overly ambitious sales rep who overpromised on the value that could be delivered, a project manager who didn't diligently document the requirements, or a lack of coordination on the customer side — the list of potential problems is endless.
The purpose of finding the root cause of the delivery gap is not to play the blame game or apologize profusely. You need to understand the challenges you might expect in the future, and plan a mitigation strategy to get the customer to where they want to be in the long run.
If you're lucky, the customer already has an idea of what success looks like for them in the long term, or better yet, they might have a roadmap of how to get there. In the likely case that they don't have either, you'll have to build that vision with them: share best practices, talk about what other companies in their space do to achieve great results, and discuss their general long-term strategy as an organization, beyond the scope of your product.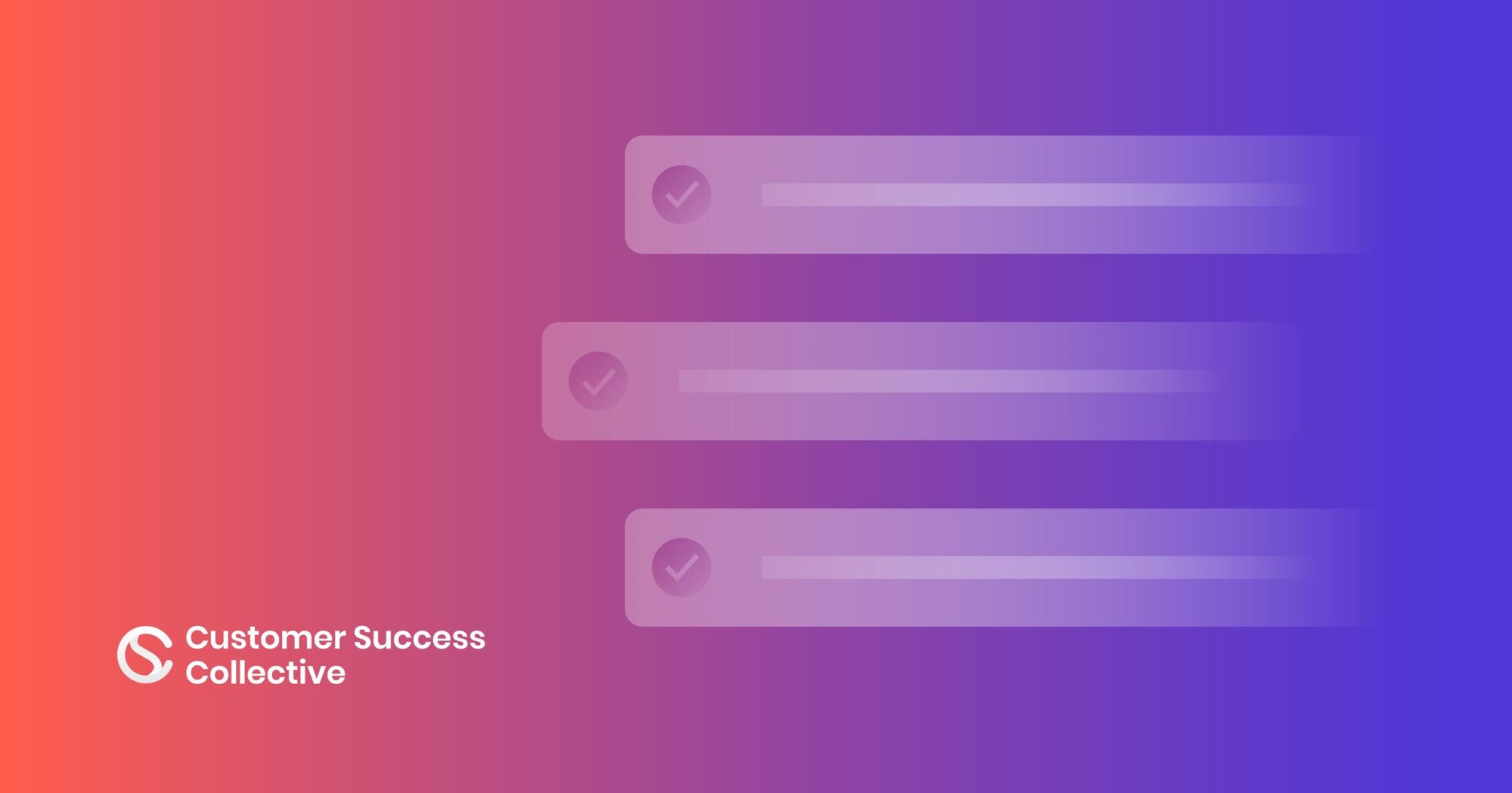 Before the first meeting
First impressions matter, so don't wander into your onboarding meeting clueless and unprepared; it's little fun for a customer to be answering basic questions about their business and targets for the thousandth time.
Step zero is to interview other departments within your company that has already interacted with the customer. It most likely will be some or all of the following: business development, sales, pre-sales, and professional services.
Also, try to get your hands on the materials they shared with the customer, such as the initial presentation, commercial contract, proof of concept documentation, and project documentation. These will give you a general idea of what was offered to the customer and allow you to spot any inconsistencies or gaps, for example, between the wording of a contract and project scope.
Take note of anything that requires more details or clarification, and thoroughly interview your colleagues. Unlike with the customer, it's a good idea to play a bit dumb in these internal meetings and ask many questions to drill down into the details.
Finally, spend some time Googling the company to understand – at a high level – what exactly their core business is, and read the relevant industry news about mergers, acquisitions, layoffs, big deals, etc. These can have a direct impact on your operations.
For example, a merger can lead to a rapid increase in the number of employees subscribed to your product. Alternatively, the company might switch to a competing product that's being used by another merger party.

Setting up a meeting
Personally, I prefer one-on-one meetings with my key stakeholders. They allow you to connect on a personal level, have a social conversation, and build a better understanding of what drives the other person, leading to more productive work relationships. To kick things off, ask one of your colleagues already working with the stakeholder to do a short email introduction.
If they'd like to invite one of their colleagues, say, a project manager, this also works fine and you can still have a pleasant and productive chat. Often, the second person turns out to be the second-in-command, and you'll spend more time dealing with them than the person you were initially introduced to.
Wandering into the three-plus-participants territory, getting more formal, and bringing a colleague from the sales or professional services department who knows the background and some of the attendees is better. An agenda and a customer success presentation would be a great idea too.
Finally, a town hall meeting where everyone even remotely relevant is invited is the least desirable, but sometimes unavoidable, scenario. An agenda, presentation, and your colleagues are mandatory. In the worst-case scenario, be prepared to narrate the presentation end-to-end.
The unique part
When all preparations are complete and the meeting is scheduled, there is only one thing left to add to the equation – you. Your personality should always come through in your interactions with customers. After all, none of us wants to deal with faceless robots.
It is handy to have a short "elevator pitch" that covers your professional background in 30 seconds or less, but you also should have a few interesting facts about yourself that add dimension to your personality. For example, you like salsa dancing, you're horrible at it but you're taking lessons with your partner before you participate in a major competition. A few fun anecdotes and a "hero's journey" can go a long way.
Don't get me wrong, this meeting is not about your life story, but that doesn't mean you have to be a text-to-speech robot reading out slides. The purpose is not to brag or complain about your life; it's to give your customer a few things to anchor you in their mind as an independent entity, not an extension of your organization.
On top of making your interactions more entertaining, establishing your independence from the company in your stakeholder's mind will allow you to act as an intermediary between your customer and your organization. You won't have to take sides or point the finger should there be any issues, but rather act as a facilitator and referee to bring the two sides together.
Be all ears
The one mistake I see quite often, and to which I am prone myself, is not listening enough. It happens not only in onboarding meetings but all over the place: from sales pitches to exit interviews. "Do you have any questions or comments?" followed by another section of a presentation does not qualify as listening. To listen, you need to have a conversation going.
This is where the gold lies – in conversation. It can follow the personal introductions bit, for example. You can get the ball rolling by bringing up what you gathered about the company's requirements from your team. Did they achieve them? What need were they trying to address? Did they? Do they have a roadmap planned? And so on.
The bottom line
Can you wing an onboarding call without doing your homework? Absolutely.
Should you? Absolutely not.
Don't just go through the checklist ticking items off. Have enough self-esteem to talk about yourself; show an interest in the people you are meeting and ask them questions. Show them that working with you will make their life easier, and they'll reciprocate.

Want to learn more about customer onboarding?
With a Customer Success Collective membership plan, you get automatic access to a treasure trove of game-changing templates and frameworks to directly apply to your job.
Here's a sneak peek of our onboarding checklist. 👇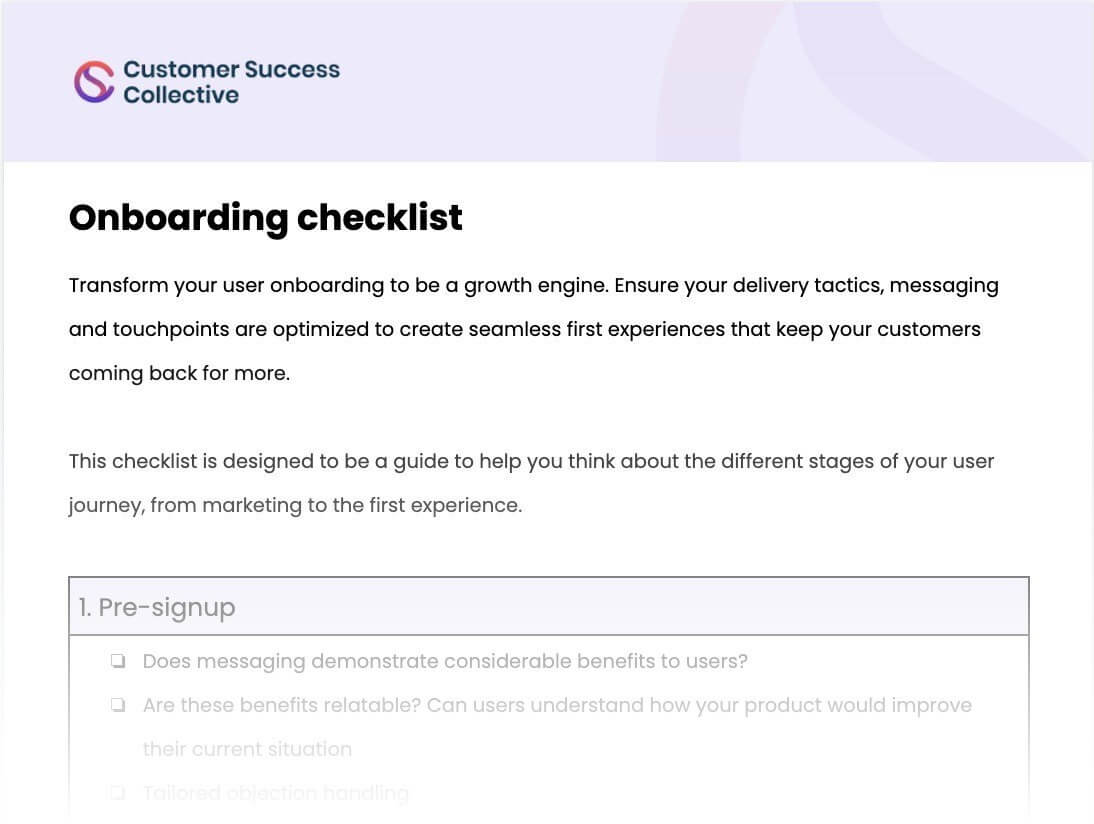 A whole playbook dedicated to customer onboarding?
📣
Did you know that
55%
of people say they've returned a product because they didn't understand how to use it? Fifty-five. To us, that's absolutely crazy. 😱
If your customers don't have all the right information in front of them, you radically increase their chances of churning! This is why, in partnership with
GUIDEcx
, we've created
The Customer Success Onboarding Playbook: All Aboard in 7 Steps
– because first impressions really
do
count.
This playbook will be your new best friend if you want to know:

⛵ What customer onboarding actually is
🔥 The steps to take before the prospect converts
💰 How and when to identify revenue opportunities
🧠 The best way to reflect on your process and measure success

So if you don't want your customers becoming disengaged and unsubscribing, download your free copy of our playbook and discover how to onboard your customers properly.

After all, you wanna make sure they realize the full value of your product, right?