My name is Nikhil Kelkar, I'm the Senior Director of Customer Success & Support Strategy at LinkedIn. I'm excited to be here sharing a little bit of the journey we're on here at LinkedIn, and some of the learnings and opportunity areas.
What's happened recently at LinkedIn is we've created a center of excellence that is focused on value delivery for our members and customers post-sale and post-sign-up. So that's really combining our customer success and customer support organizations together, as well as a lot of different teams and roles that are looking at how we optimize, plan, and design for customer value and success.
So as an organization with 2.5k employees, it's not just the customer member interactions we do, we're also trying to understand the end-to-end customer journey and how we're doing in terms of experience, and feedback along those stages.
At LinkedIn, we try to optimize for touch points that happen across and within different teams, as well as investments in productivity, systems, and tools to help us scale more efficiently over time.
Here's what we're covering in this article:
The vision for LinkedIn
Delivering experiences that help customers realize value
Opportunity areas
Customer journey mapping
Connecting activities to outcomes
Connecting to customers
Framework for measuring success
The vision for LinkedIn
So the vision is to build this best-in-class organization that accelerates our customer success in realizing economic opportunity, which ladders very well up to LinkedIn's overall vision to values as well. And so I've listed some of those strategic pillars:
Delivering member customer outcomes across the moments that matter
So we know that there are moments in our customer journey phase that if we are there for our customers at the right time, this leads to an outsize ROI in terms of the success they have with our products. Ultimately, the satisfaction and the amount of value they get from our products and services as well.
Delivering value at scale
We're a growing company, we have a large member base. How do we think about white glove service all the way down to a scale of assets for our longer-tail SMB-free members, etc.?
Empower employees to help members and customers succeed
How we think about building the right systems and toolings to help empower employees to be more productive and to improve our delivery model over time.
Influence members and customer-centric experiences
Finally, how are we thinking about that customer journey mapping? How are we designing the processes that allow us to continually improve the experience that members have with LinkedIn?
Delivering experiences that help customers realize value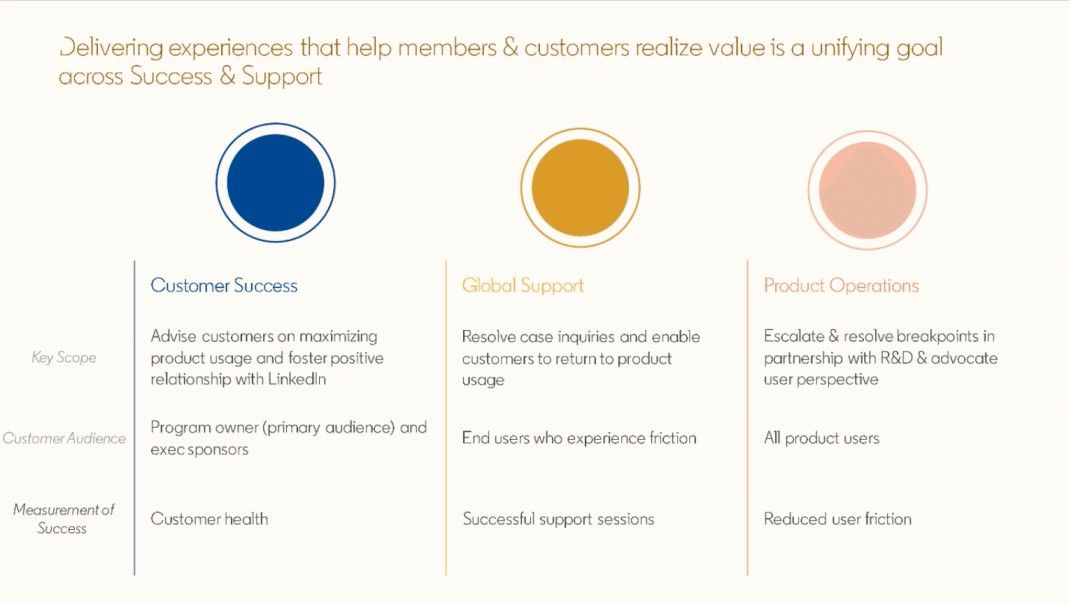 This is a little bit of the main roles within the team, it's split into the proactive side, the reactive side, and also design.
On the very left-hand side of this image, we've got our customer success teams. These are the teams who are really owning accounts, setting the stage for provisioning. They're getting people set up on accounts, helping them understand, based on your objectives. These teams are helping the customer get the most out of the product, and asking what are some ways to maximize the usage of the licenses you've purchased.
In the middle, we have global support. This is our reactive side where, if you have a question, if you need help, or if you've got an issue with your product, you can reach out for help and support either online or through our support agents. They can help resolve those questions and get you to come back to using the product.

Finally, on the right-hand side, we've got our product operations team. This really helps us to understand whether we are building better, more bug-free products over time, whether we understand breakpoints and whether we're identifying where processes are broken, and whether we're coordinating with the R&D teams to get it fixed.
As we've set up the center of excellence and started to go down this journey, there are a couple of opportunity areas that have really been highlighted for us as things that, if we really start to nail this, start to get the ball rolling on the on a couple of things here, this can not only accelerate our progress towards revision but lay a really good foundation for future years, as well.
Opportunity areas
So these are the opportunity areas I'm describing. And I'll go through them one by one.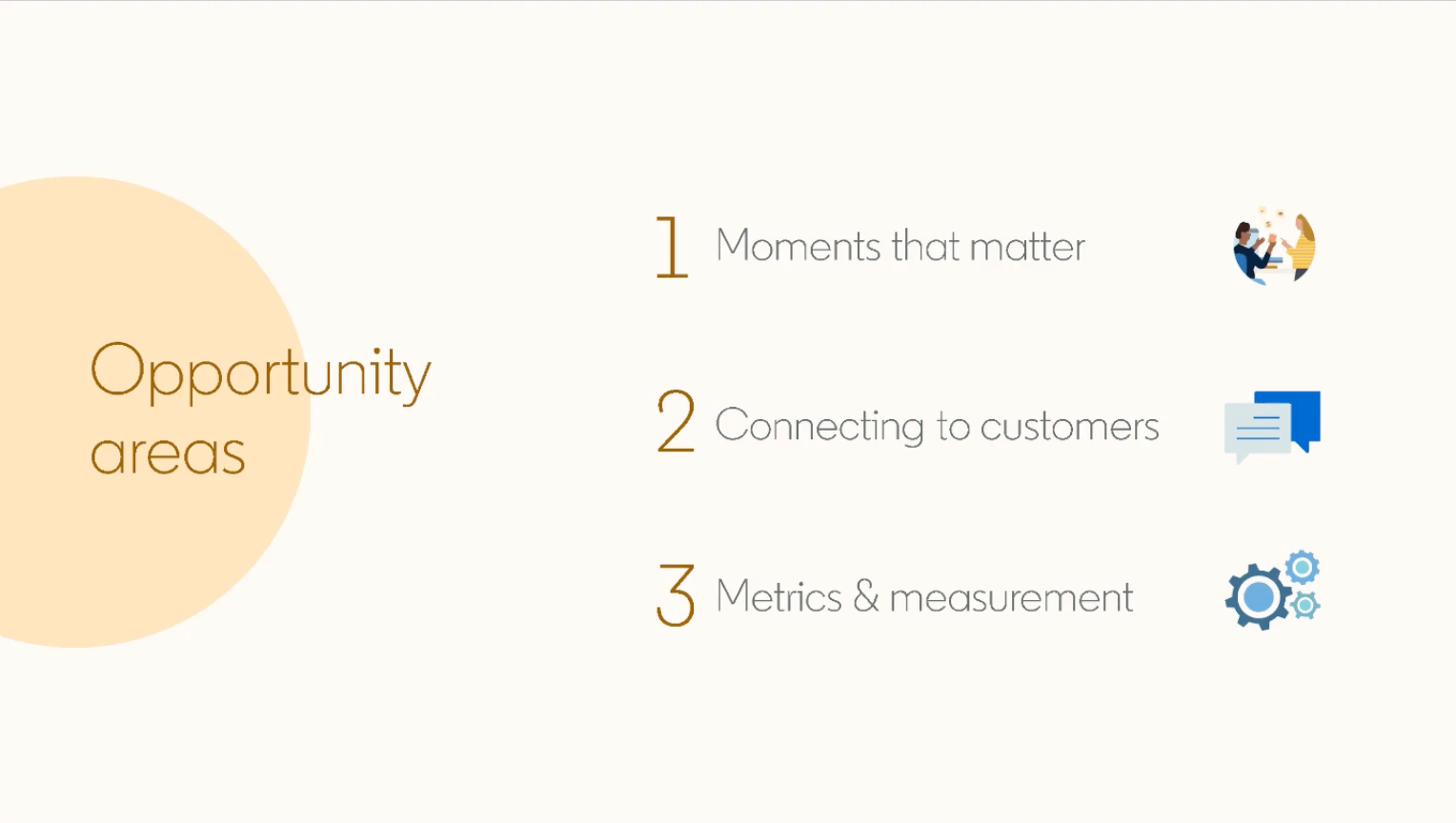 Moments that matter
If we think about the right kind of go-to-market model, if we think about defining success the right way, where are we gonna have outsized impact in terms of customer success, renewal, engagement, etc?
Connecting to customers
How we efficiently connect with our customers and make it easier for them to do business with LinkedIn.
Metrics and measurement
Are we measuring progress against customer success in the right way? How do we know where we are? How do we know where we're going?
Customer journey mapping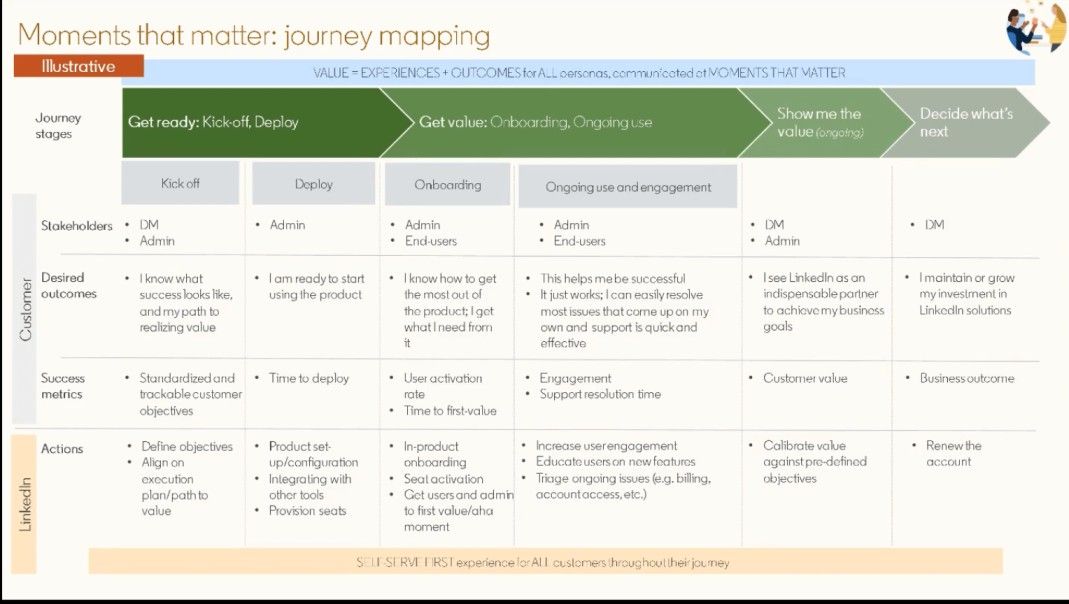 So this is illustrative of the kind of work that we're doing. But this is an example of looking at mapping out a customer journey after that decision to purchase has been made. You can see it broken out into stages and into sub-stages. We have different stakeholders involved here as well.
Then we talk about what the desired outcomes feel like for customers, how we could kind of measure success, and how we've mapped over LinkedIn actions against that.
This sort of framework is something that exists in a lot of different pockets of the company. I think having a team brought together in this way, with this very clear mandate and vision, builds a lot of momentum around bringing a little bit more standardization and amplification of the different teams involved in putting something like this together.
This is cross-customer success, it's the success and support teams, and it's customer marketing and product as well.
What this really helps is to illustrate:
"Okay, if we're saying these are our success metrics, how are we doing on them right now? What are the biggest concern areas? Where are the moments of leverage that we see as well?"
It also starts to illustrate how complex sometimes this kind of exercise can be and how different it looks for different user journeys.
This is a very simplified example, but LinkedIn has a couple of different businesses within it. If you start to do this for one product line versus a different product line, it starts to look a little bit different.
There are different moments that matter in different stages for admins versus end users. So I think that's part of the learning that comes from doing exercise like this in a more holistic way.
Connecting activities to outcomes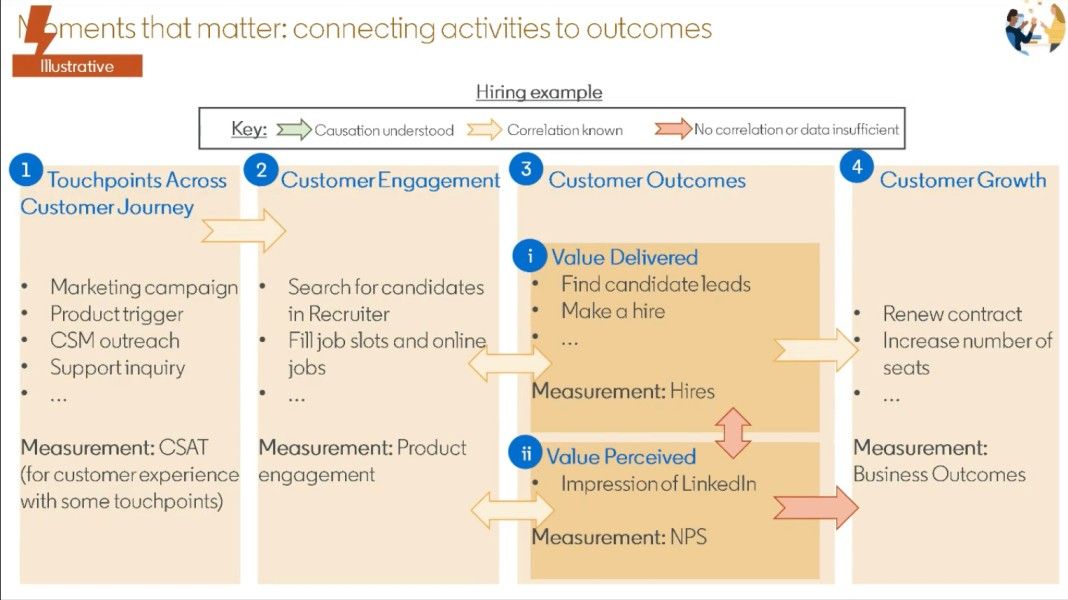 Some of the ultimate goals for us are to take some of the learnings in the prior slide and say:
"Okay, that's the journey. How are we mapping our activities to outcomes?"
So we, as a team, are doing activities, we're doing things to touch our customers through their journey. Do we understand how that then leads to engagement, outcomes, and growth?
We're very focused at LinkedIn on thinking about correlation to causation – meaning, we see activities like sending emails, we'll see clicks, we see searches for candidates and recruiters, etc.
How much of that is just a matter of fact, that it would happen regardless of some of those actions we took vs. how much we actually cause and influence through some of the things that we did as an organization. That's what we're trying to understand more deeply.
This is the kind of work we're trying to prioritize and focus on as a team. If we can actually map out all the different activities we're doing as a team, we can tie it more directly to engagement outcomes, growth, etc. That gives us so many different sides, it helps us understand the value we're driving currently, and also helps us prioritize our team's time and where we should be focusing our energy.
Connecting to customers
The second opportunity area is connecting to customers.
I'll start with a very generalized statement, we think it's probably fair to say as a company we don't always make it easy to do business with us.
If we step back and are a little bit honest, we've some great products, but we sometimes make it difficult in the backend to help our customers get things done. And there are a lot of reasons for that.
We have a lot of different teams in the process and so sometimes that leads to a little bit of fragmentation, a little bit of challenges of connecting customers to the right team at LinkedIn at the right time. There are also issues that we have in the back end in terms of our system and tooling.
But this is one example I wanted to hone on is live support chat, which is not something that we offer to the degree that we would like. So if you enter into our help and support ecosystem, you're going to have options to self-serve and view help center content.
You're also going to find options to contact support to reach out to a LinkedIn agent to get your question answered. Most of the time, that channel right now will be through email, right? So you'll be able to reach out and connect to an employee by sending an email and then responding back to that.

What we're in the process of doing is rolling out more live chats, which have a host of benefits, namely, being in real-time with faster resolution times. It's a channel that is preferred by a lot of our customers and members who are very used to LinkedIn being a digital product, and it feels natural to people to chat.
There's a whole host of benefits that we're expecting to see here. We're excited to be in this planning stage of rolling it out in the next six to 12 months on a greater scale than we were before.
We also have some thoughts on what the ideal experience state looks like, just outlined on the right-hand side. We're starting with a more basic environment where you want to chat with somebody, someone's available, go ahead, go do that.
But over time, we want to have a blended approach where you have chat assistance, but you also have agents in the backend ready and available to take on chats. And it's a continuous learning cycle where we've driven agent productivity through macros, file attachments, and ways to help them be more productive in a chat environment.
We're also understanding who you are when you enter into the ecosystem far better. So who you are, and what your product is, we have a sense of what your question might be before you ask it.
Framework for measuring success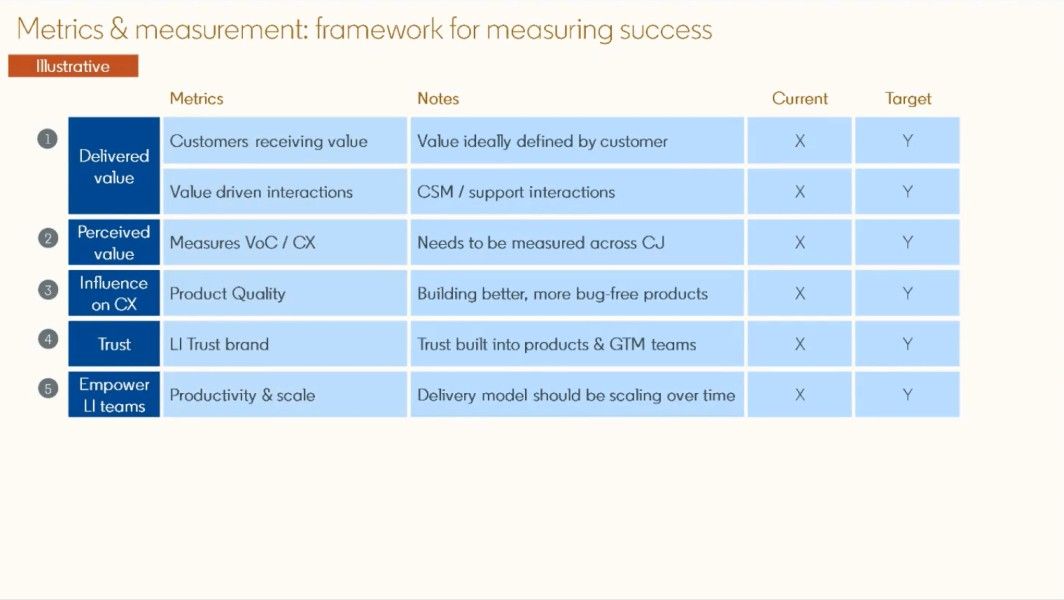 Finally, I wanted to touch on a third opportunity. This is around how we think about measuring success for this newly formed organization over time. And this is where it's really important to measure progress against delivering customer value, and also thinking about the things that our team and organization can influence and change over time as well.
So we've centered around a framework that we want to make sure that we develop and refine, measure, and track over time as well. If you think about the different elements of this organization, I think this framework describes it as a journey as well.
Not all of these things we can measure right now. It's almost like we're starting with proxies for some of these components. But we know what overtime we need to develop and measure, what that future state metric looks like over time as well.
The way we thought about this framework is, firstly, there's something about the value that we're delivering. And so if you look at the different roles that we have on the team, its customers receive value, as well as value-driven interactions.
At the moment we have proxies for these. Ideally, over time, this will change and we'll get to a place where we're very clear on the causation of the value that is being driven by those interactions. We're also defining value more through the customer lens, how a customer would define value for them when they're buying a product, as opposed to some old LinkedIn-centric metrics we have available right now.

Secondly is perceived value. We know from our own internal research that customers think about both delivered value and perceived value, sometimes they are the same, and sometimes there's a gap.
We want to make sure that we're measuring the voice of the customer and the customer experience throughout the major stages of the customer journey. We have those listening posts in place to be able to understand the breakpoints that we need to be focusing on.
Thirdly, your influence on the customer experience. This is the product quality. So are we building better, easier-to-use, more intuitive products over time? One, how do we measure that? And two, how are we tracking our success against that?
That feeds into the entire ecosystem, the more that we're building intuitive, easy-to-use, bug-free products, the fewer people are reaching out to support because they have challenges using the product, and the deeper and more value-driven conversations we can have between our CSM and our customers.
Fourthly, we have a fairly large contingent of our team focused on trust and safety issues. And it's something that we take very seriously at LinkedIn. LinkedIn has a high standard in terms of how we hold ourselves and the trust that we know that many members place on our platform. And so how are we, through the actions that we're taking as a success and support organization, helping to maintain that trust? What are the risks that we might see coming down the line based on some of the signposts or precursor metrics that we might be tracking as well?
Then, we need to consider productivity and scale. Are we driving enhanced productivity for our support agents or our CSMs? Are we handling more accounts over time? Are we handling more cases, and more tickets over time as well? Are we actually scaling with the business?

If we look at the percentage of revenue and the percentage of bookings, are we set up for scale? Are we growing at rates that are not always in the same race as our member base, our sales, growth base, etc?
Using this as a general framework, we have some of these metrics ready to go some of them not, but this is the kind of thing that we're going to keep evolving and changing in terms of the metrics themselves. But this framework is what we're putting in place, and operationalizing now.
We're in the process of scaling a dream team, it's a highly complex team. We're coming together here at LinkedIn, but it also brings with it a lot of opportunities, a lot of exciting opportunities to really drive customer member success, which is what we're about.
---
Learn how to set up your own customer success function
Has this article opened your eyes to the possibility of building your own customer success function, we have the perfect course to help you position CS to a leadership team and establish a successful customer success operation.
Introducing... Building a Customer Success Team Certified |Masters.
By taking this course, you'll discover how to:
🔧 Leverage technology and automation to streamline customer success operations and improve efficiency.
🧑‍🎨 Sculpt out a strong CS function and learn for your business, including where CS slots into the client experience and why it's an investment for the future.
🎨 Create effective customer onboarding processes and ensure a seamless transition from sales to customer success that sets the stage for long-term relationships.
🧱 Build a culture of continuous improvement by cultivating a mindset of learning and growth within your customer success team.